E yarap ka DBT-IBSD ya ka Seiñ Jaiñtia Secondary School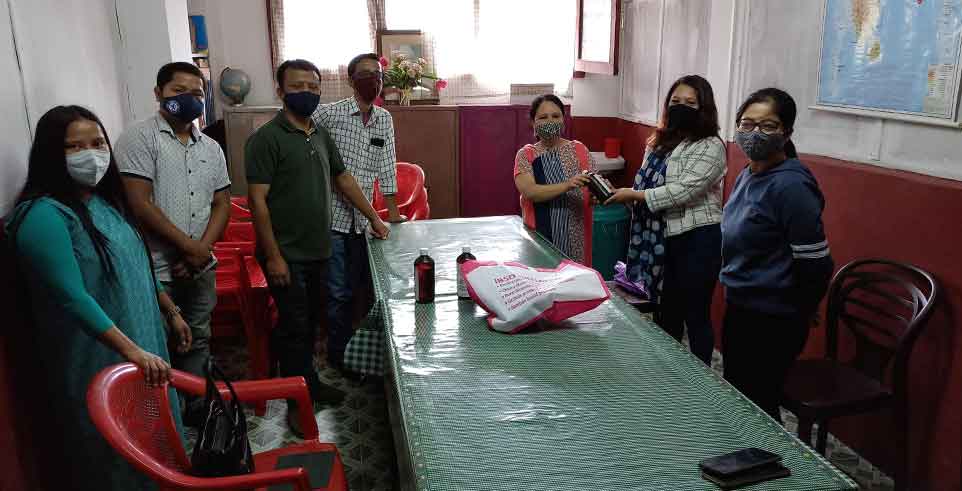 Hadien wa chah ka sorkar wow wai biang ki skur ha ka jylla neibynta wow yarap ya ki khynnah hajrong ki bynta kiwa chem chitom ki, ka Institute of Bioresources and Sustainable Development (DBT-IBSD), Shillong, Meghalaya da sdang e yarap ko da ki tiar wow pynkhooid ya ki skur.
Ha kani ka kynti, ka Institute da e sñiawbha ko da ki Surface Disinfectant wa da chna ko cha ka Seiñ Jaiñtia Secondary School, Qualapatty, Jeep Stand, Shillong hei emkang ka Principal ka skur, ka V. Shylla wa kiwa sikai yong ka.
Advertisement
---
Kam wow pynkynmoo heini, kani ka skur esikai ko mynkna ya ki khynnah wa wan na ki manyung wa emkaam yarap nadooh Nursery hadooh Class VII.
Ka DBT-IBSD hapoh i yahkhmat u Director, IBSD, u Prof. Pulok K. Mukherjee da embynta bha ko ha i yakhun ya ka khlam COVID-19 deiwa saam ya ki Sanitizer, Disinfectant wa ki Face Mask cha kiwa dai jhoor, ki pulit, ki skur wa kiwi kiwi.