Emkaam ka jylla 27,000 MT ka dakha ha ka chi snem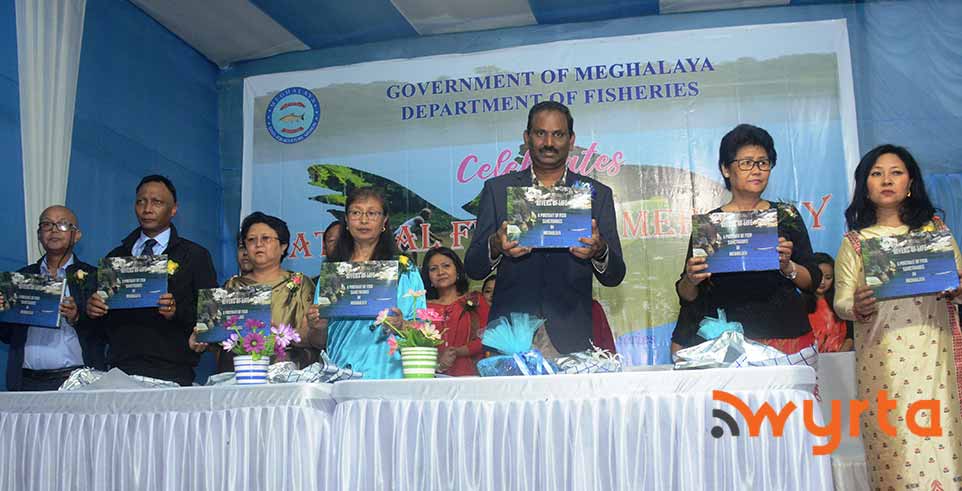 Advertisement
---
Shillong: Ka chnat Fisheries, ynne da lehwarom ko ya ka sngi kiwa psan dakha namo ka National Fish Farmer's Day ha ka yalang wa man ha Directorate of Fisheries, Shillong heiwa u K.N. Kumar, Chairman and Secretary Farmers (Empowerment) Commission da man u kam u kongsan katwa u Sampath Kumar, Commissioner and Secretary to the Government of Meghalaya da man u kam u symbood kongsan hei emlang ki sahep kani ka chnat wa kiwi.
U K.N. Kumar da pyntip u wa em kamwa 22,000 ngut kiwa psan dakha kiwa da kyrchaan da ka Meghalaya State Aquaculture Mission. Ha kini ki 5 snem wa da lai ka Meghalaya da pynku ko yei pynmih dakha da le chah na ka 4,800 Metric Tonne ha u 2012 cha ka 13,000 Metric Tonne ha u 2019 tangwa hapoh jylla emkaam 27,000 Metric Tonne ha ka chi snem.
Ha kani ka sngi da pynlait leh ya ka kot Coffee Table Book wa da e pyrtuid "Rivers of Life – A Portrait of Fish Sanctuaries in Meghalaya".
Advertisement