Emkaam wow pynkylla noh yei rukom pyrkhat hei yatoh wa i thooh kreh: Dr. Mukul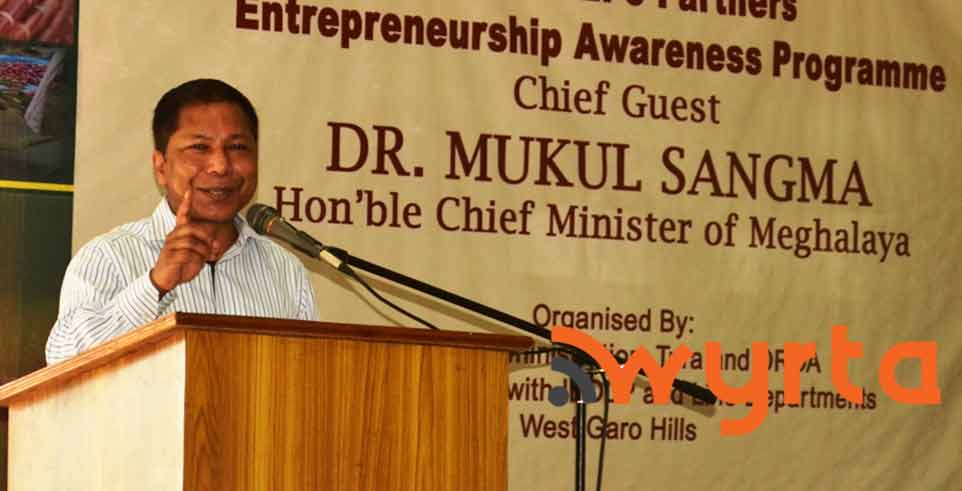 Tura: U Montri Rangbah ka jylla u Dr. Mukul Sangma da em bynta biang u ynne ka sngi ha ka Entrepreneurship Awareness Programme namo ka yalang pynsñiawthooh paidbah wa kammon u seiñ khih heiwa ynnin da klam u ha khmat ki khynroo khyllood na kylleiñ ka ri-loom Garo wei wa ynne won da klam u ha khmat ki spah ngut ki dkhot ki Self-Help Group (SHG) ha Dakopgre.
Ya kani ka yalang da pynman da ki bor district ka West Garo Hills, ka DRDA chirup wa ka IBDLP wa kiwi ki tnat sorkar wa emkti ha ini i kaam.
U Dr. Mukul hei klam yong oo da ong u wa i pynyoh kreh ya ki paidbah man ko ka thong wa eh dooh yong ka sorkar wei ye u poi cha ka thong du deiwa krehlang wa waroh ki tnat sorkar wa ki paidbah yow ye u chem ya ki laad wow yoh kreh ym du ha ki kaam sorkar, katwa kamtæ emkaam u kylla noh yei rukom pyrkhat hei yatoh wa i thooh kreh.
Da ong u leh wa ka sorkar da dep sdang ko ya ka Livelihood Intervention and Facilitation of Entrepreneurship (LIFE) Project kawa phær na kiwi heiwa kiwa boon toh da sdang neibynta kiwa wan na ki manyung wa dooh wa duk neibhah ha ka LIFE kiwon kiwon ye ki u yoh yarap naka sorkar.
Ha ka LIFE Project da chna ya ki kyndon wa kyrpang neibynta ki SHG yow pynkhlan chooh chooh ya ki hei krehlang waka National Rural Livelihoods Mission (NRLM).