Governor inaugurates the three day National Seminar at NEHU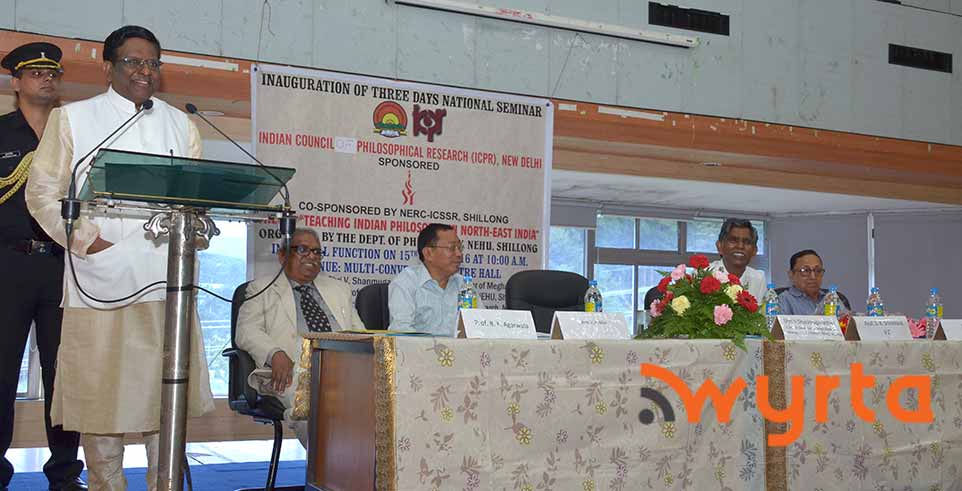 Shillong: The Meghalaya Governor and Chief Rector NEHU, Shri V. Shanmuganathan today inaugurated the three day National Seminar on the Theme "Teaching of Indian Philosophy in North East India" held at Multi-use Convention Centre, NEHU, Shillong in the presence of Prof. S.K. Srivastava, Vice Chancellor, NEHU, Prof. X. P. Mao, HOD, Philosophy, NEHU, scholars from different universities of the country and students.
The National Seminar was organized by the Department of Philosophy, NEHU and sponsored by the Indian Council of Philosophical Research (ICPR), New Delhi and North Eastern Regional Centre of the Indian Council of Social Science Research (NERC-ICSSR) Shillong.
Speaking on the occasion, the Governor said that the people living in the northeastern states have their own philosophies and practice them in their day to day life by upholding unity, community life, social service and showing hospitality to one another.
Stating that respecting women is a long held tradition of the region, the Governor said that women occupy a very special position in this region and therefore urged the rest of the country to emulate and take lessons from the practices of the northeastern people.
The topics for the first day includes "Teaching of Indian Philosophy in North East India", "Teaching and Research in Indian Philosophy with Special Reference to North-East", "Rationality and Freedom as key themes in Philosophy", "Why modern mind finds it difficult to understand classical Indian thinking" and "concept of self realization in this context". (MIPR)