Inter-school quiz contest held at Ampati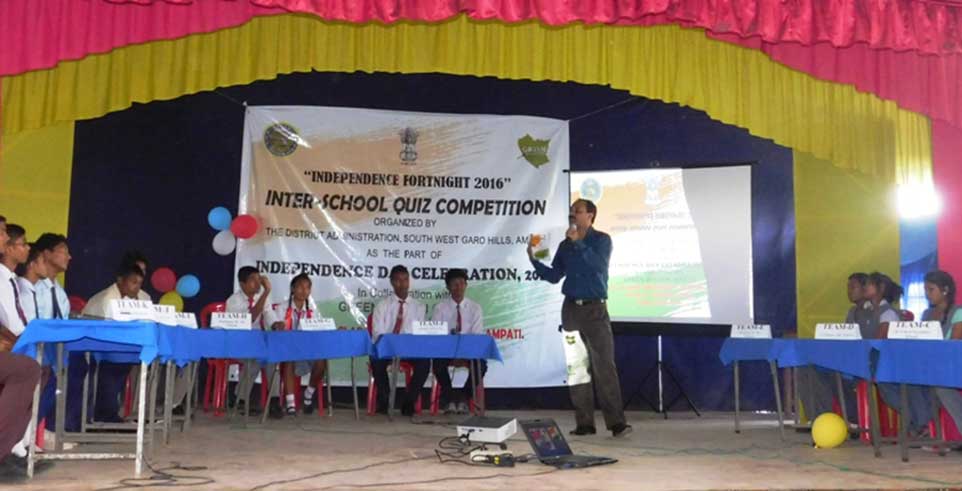 Ampati : As part of the Independence Fortnight 2016 being celebrated in South West Garo Hills district, an inter-school quiz contest was held at St. Claret Secondary School on Friday. Organized by the District Administration in collaboration with District Basin Unit, Ampati, the competition drew participation from by 13 schools from various parts of the district.
South West Garo Hills Deputy Commissioner C.V.D. Diengdoh, in his brief address to the students before the quiz competition, said that series of events are being organized in collaboration with the line departments and local youth organizations to spread out the celebration across the district in the run up to Independence Day, 2016 so that all the citizens in the district would understand the essence of what it means to have an independent nation.
Stating that quizzing is not only enjoyable but also instill a sense of competition and increase knowledge among the participants, Diengdoh said that the district administration had come up with idea of having a quiz contest as part of the celebration because power comes only through knowledge which could go a long way in having a developed citizenry and a transformed society. He urged upon the participants to compete in the right spirit and expressed hope that the knowledge they gain through the competition would help them flourish as individuals in their future.
Quiz master Sanjib Das conducted the competition in a very lively manner in the presence of the district officials, heads of institutions, teachers and a large number of students. Out of the 13 schools that participated in the contest, the team from Jawahar Navodaya Vidyalaya (JNV) Kentrikona bagged the first place, followed by St. Claret School and Mahendraganj Deficit Secondary School teams in the second and third places, respectively. (MIPR)
Read Also : Ampati to celebrate Independence Fortnight 2016
Advertisement