Jop ki Larger Than 90 yaka Meghalaya Icon VIII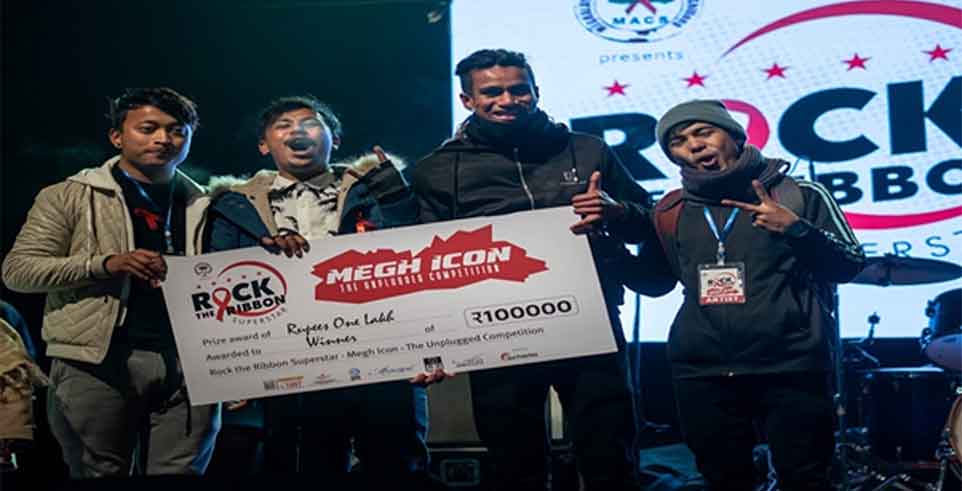 Ka Meghalaya AIDS Control Society (MACS) deiwa kyrchaan ka National AIDS Control Organization (NACO), da pynman ki yaka Rock the Ribbon Superstar – Meghalaya Icon-Unplugged Competition kawa man kam chibynta wow pynsñiawthooh paidbah chaphang ka HIV wa AIDS khamtam ya ki khynroo khyllood ka jylla deiwa pynemkaam yaka tem ka put kam ka rynsan wow e wyrta.
Ya kani ka pynsñiawthooh paidbah kawa tip leh kam ka Multimedia Campaign toh kawa da leh kyrpang du ya ki 8 tylli ki jylla ka thaaiñ North East kawa kyrchaan leh daka NACO. Hapoh kani ka Campaign, ki State AIDS Control Societies da booh thong ki wow klam chaphang ka HIV & AIDS lyngba ki pynwyrngia lyngba ki yalehke Sports, ki tamasa wa em cha ki chnong ki thaw wa lyngba ka put ka tem yow kynjoh ya ki khynroo khyllood.
Advertisement
---
Ka MACS da dep pynman ko la 8 tylli ki Meghalaya Icon, heiwa kiwa chimbynta da rwai ki ar tylli ki jait ktien yow pynpoor yaka khubor chaphang ka HIV/AIDS cha ki paidbah ka jylla.
Kawi na ki kyndon kani ka yakob toh ha ki Preliminary Round waroh kiwa chimbynta hap lai ki cha ki ICTCs wa CSC (wa pynlai da ki MSNP+), yow pynkylla yei rukom sñiawthooh bakla chaphang u HIV wa AIDS khamtam ya kitu kiwa im wa u HIV wa AIDS (PLHIVs). Kiwa chibynta deiwa lai ki cha kini ki thaw da yoh ki yaka yutip wa bniah chaphang ki bru wa im wa u khniang HIV. Ya kiwa jop hap ki wow soi soskular MOU waka MACS, yow pynemkaam yei dur yong ki wajop wei wow emlang ki manda emkaam yei yarap yong ki ha ki IEC Campaign kawa chi snem hadooh wa jop da kiwi.
Ha uni u snem i thooh ya ki Meghalaya Icon VIII da sdang da ki District Level Auditions wa pynman ha Shillong haka 12-12-2019,Tura haka 18-01-20, ha Shillong haka 23-01-2020 katwa yaka Grand Finale da pynman haka 24-01-20 ha Shillong.
U kongsan ha kani ka sngi Dr. A. War, Director of Health Services (MI),Govt. of Meghalaya uwa man leh u President, Meghalaya AIDS Control Society, Shillong da saam u ya ki khusnam cha ka dhab tem Larger than 90 kiwa chah jied yow man kam ki Meghalaya Icon 8, wa ar da yoh ki Plus One katwa yei wa le da yoh ki Arcadia, katwa ki Preacher's Sons na Tura da yoh ki yaka Best HIV Theme Song.
Kiwa yoh nyngkong da yoh ki leh yaka song poisa T. 1 lak, wa ar T. 50,000 katwa kiwa yoh wa le 20,000.
Kiwa jop daw yoh ki leh wow chimbynta haka yakob 2nd North East Multi Media Campaign in Music against HIV AIDS ha Imphal, Manipur.