Ka 5th Tiger Five u pynman ka Chilliangraij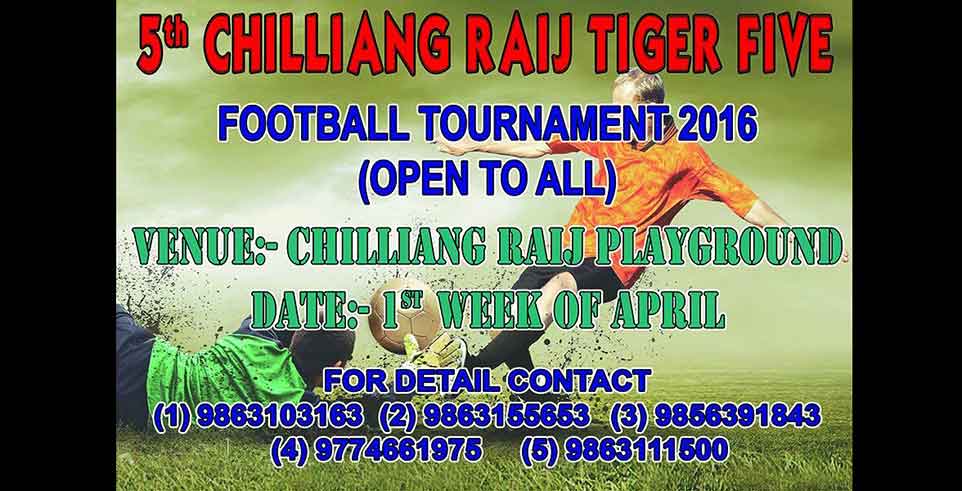 Advertisement
---
Jowai : Ka Chilliangraij Sports and Youth Affairs, yow kyntu ya i sap yaleh bol kamwa jooh man, ha kani ka kynti daw pynman biang ko ya ka 5th Tiger Five. Ha kani ka kynti da khut yachimbynta ko ya kiwon kiwon ki dhab cha kani ka yakop kynjat bol mar san ngut chilliang ka wow sdang nadooh ka tayaw nyngkong u Naitung (April) 2016.
Ki dhab wa jooh yachimbynta jooh poi ki hadooh 25-28 tylli ha ki snem wada lai.
Advertisement
---
Kamtæ neiliang u Secretary Sports and Youth Affairs Chilliangraij da kyrpad u ya kiwon kiwon kiwa thmu u pynman kam kani ka lympung wow sniawbha ki u pynyait ya ki tarik yong ki yow lait nei takhooh sngi, khnang yow lai ryntih i kaam kamwa da jooh leh. Heijooh i por ki dhab ki wow chim bynta leh yow lait ki nei kulmar yumut.
Kiwon kiwon kiwa kwah u yachimbynta næ kwah u tip rap bniah chaphang kani ka yakop ye ki u phone ha kini ki number 9856999156, 9863155653, 9615334589, 9863111500.