Ka lehkmen Republic Day ha Shillong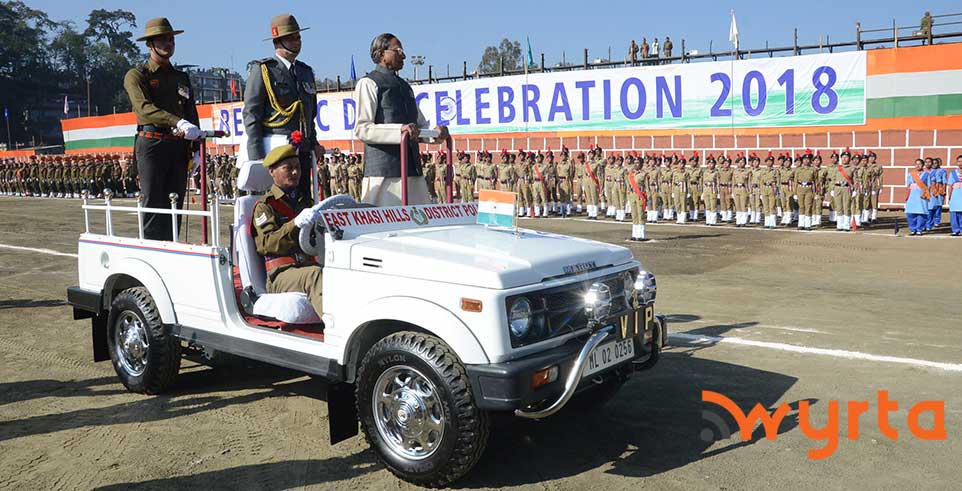 Shillong: Ka leh kmen Republic Day wa 69 ka ri, ha Shillong da wan pynhær ya ka lama ka ri da u lat ka jylla u Ganga Prasad wei da chim u leh ya ka Rashtriya Salute.
Ha ka March Past da yahkhmat u Major Deepak Singh Mehta naka Assam Regimental Centre, Shillong wa u Second in Command Inspector R.C. Bordoloi naka Border Wing Home Guard.
Ki 11 tylli ki dhab wa chimbynta ha ka March Past da kynthup ki leh ya ka Assam Regimental Centre, Assam Rifles, Border Security Force, Central Reserve Police Force, District Executive Force, Meghalaya Police, Manipur Police, Border Wing Home Guard, NCC Boys & Girls, Bharat Scouts and Guides, Indian Red Cross Society waka Brass Band ka Border Wing Home Guards, Assam Rifles waka Border Security Force.
Neiliang ki tnat sorkar won da pynyoo rong ki da ki kari wa da pynriam katkam ki kreh kaam jar jiar ka tnat wa kynthup ya ka tnat  Agriculture, Soil and Water Conservation, Forest and Environment, Horticulture, Public Health Engineering, Fisheries, Health and Family Welfare, Animal Husbandry and Veterinary, Election waka Meghalaya State Skills Development Society (MSSDS).
Yei naam jop da e cha ka Animal Husbandry and Veterinary, wa ar cha ka tnat Election wei wa le won cha ka Forest and Environment Department.
Ya ka Kayakalp Award won neibynta ka "Best District Hospital" da e cha ka Williamnagar Civil Hospital, East Garo Hills deilang waka song poisa wa T. 50 Lak. Da e leh ya ka Commendation Award ha ka kyrdan District Hospital cha ka Ganesh Das Government Maternal and Child Health Hospital, Shillong. Best Community Health Centre Award da yoh ka Chokpot CHC kawa em ha South Garo Hills waka Bhoirymbong CHC wa em ha Ri Bhoi District. Best PHC won da yoh ka Pomlum PHC katwa ya ka Commendation Award da e cha ka Mawphlang PHC waka Laitlyngkot PHC, East Khasi Hills.
Ha kani ka sngi da pynbna ya kiwa yoh khusnam kiwa man kamni ha wah:
Police Medal for Gallantry
U Bitching N. Marak, Inspector of Police
U Kordor Sohtun, Constable
U Kingstan Momin, Fireman
President's Police Medal for Distinguished Service
U Chauenlai Sangma, MPS, Asst. Commandant SF-10, Shillong
Police Medal for Meritorious Service
Ka Jubi G. Momin, IPS, Asst. Inspector General of Police (Admn)
U Jerry Fiscer K. Marak, IPS, Commanding Officer, SF-10, Shillong
Ka Janice K. Marak, Inspector of Police, West Garo Hills,Tura
Fire Service Medal for Meritorious Service
U Kassparwell Iawphniaw, Fireman.
President's Award of the Home Guards & Civil Defence for Distinguished Services
U Sniawbhalang Rangad, Commandant, Central Training Institute, Civil Defence & Home Guards, Shillong
U Omar Thomson Shangpliang, Commandant, Border Wing Home Guards Battalion, Shillong
Home Guards & Civil Defence Medal for Meritorious Service
U Merinpole Koksi Sangma, Joint Director, Civil Defence & Joint Commandant General of Home Guards
U Bransley Sohphoh, Naik, Civil Defence Office, Nongstoin
The Correctional Services Medal for Meritorious Services
U Purno Sangma, Warder, District Jail, Shillong.
Ha kani ka sngi da wan pynwyrngia da ka Dog Squad K-9 Unit ka Meghalaya Police, ki rwai ki chaad naka Song and Drama Division ka Ministry of Information and Broadcasting we da saam leh ya ki khusnam cha kiwa jop ha ka yakop phet wa tip kam ka Governor's Cup Half Marathon kawa pynman ha ka 20 tarik uni u bnai.
U lat leh da yahkhmat u wow chim ya ka smai wa tip kam ka New India.