Kajiak chaphang ka Wanmon Tang kawa yoh yaka Entrepreneurship Recognition Award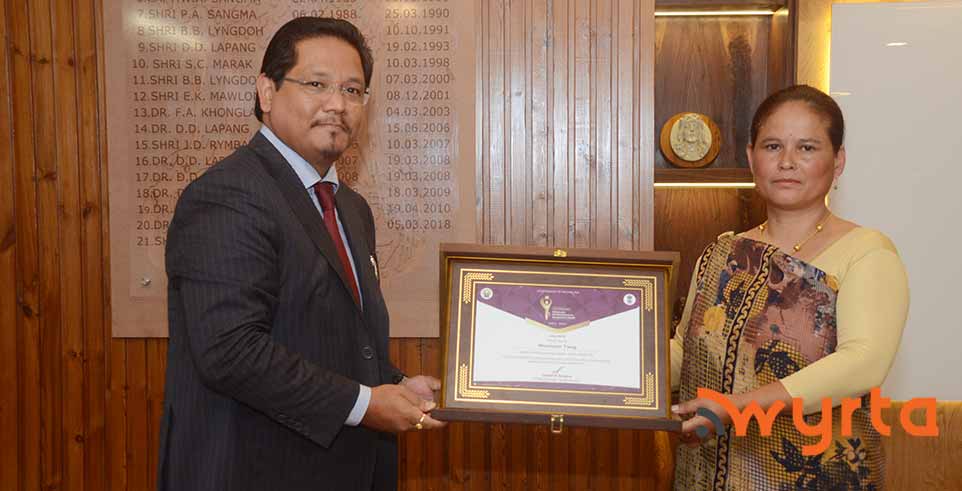 Jowai: Ka Wanmon Tang toh kawa na ka chnong Madankynsaw, Laskein Block, West Jaiñtia Hills District, Meghalaya, kawa man leh kawa krehlang (Partner) ka Laskein EFC kamjooh ka tre karkhana pynmih baam kawa man kawa khian wa pynkrehkaam pyn na yung ko kawa tip kam ka Deisa Food Processing, kawa pynmih ya ki jait baam wa boon jait na ki soh wa ki jhoor wa em pyn cha i kam na u syiñ, sachram, samirleiñ wa kiwi kiwi ki soh wei na kini da chna achaar, ki Jam, ki um soh nadooh ki jait Wine wa kiwi kiwi de ki jait baam.
Ka Wanmon da sdang ko yaka Deisa Food Processing ha u snem 2006 deiwa pynlut nyngkong T. 5000 hadien wa yoo ko wa boon ki soh wa em cha i ym em pynemkaam bha ya ki wow chna baam ki. Ini da pynman yaka wow thooh laad hadooh wa kammon wow chna ya ki mombati na kini ki soh.
Nyngkong kamwa jooh jia wa waroh kiwa seiñ khih, da maad ko chiboon ki chitom wow yoh yarap poisa tangwa ym em kynran dien ko wei da i kreh chitom wa i mynsien wa ngait ya iwa angnood ko da yoh ko yaka ram wa T. 5,00,000 naka Urban Bank, Jowai yow pynheh yei khih yong ka. Da chim ko leh yaka ram wa tip kam ka KCC Loan wa T. 50,000 na SBI, Raliang kawa da dep su ko yow kyrchaan yeiwa sdang heh i kreh ko.
Ha u snem 2017, da yoh laad ko wow yoh yaka sikai pynmih baam (Food Processing) wa pynman da ka Directorate of Horticulture, wei da yoh ko leh yaka sikai chaphang wow song baam wa pynman da ka Meghalaya Institute of Entrepreneurship (MIE) iwa da pynbood wa sa i yarap chakhmat da ka Basin Development Unit, Jowai kiwa da yarap ya ka wow yoh ko yaka FSSAI License.
Kam wow tipmit ya ini i kreh chitom yong ka, ka Directorate of Horticulture da e ki ya ka da ka thaw krehkaam (Work Shed) ha u snem 2017.
Katni da em ko 4 ngut ki bru wa krehlang waka, wei ka Wanmon ka dai khutia wei dai yonglang ko ya ki baam wa pynmih ko wei ya ki mar wa pynmih ko da dai ha Jowai wa Shillong.
Da tipmit leh ya ka kam ka "Master Trainer in Food Processing" wei da e sikai ko leh ya ki khynroo khyllood wa cha ki seiñ manda khut da ki chnat sorkar waphær waphær.
Katni dang yaleh ko wow yoh ya ki tiar ki tar ki wow yarap yaka wow pynmih chiboon ki mar wei kamjooh wow song ya ki baam wa katkam ka juk kawa katni yow ye ko u dai ya ki mar yong ka cha ki yaw wa boon wa kiwa heh.
Ynne ka sngi yaka saam cha ka yaka Entrepreneurship Recognition Award da u montri rangbah ka jylla u Conrad Sangma uwa da leh yaka ka song poisa wa T. 1 lak.
Also Read: Yoh ka Wanmon Tang yaka Meghalaya Entrepreneurship Recognition Award