Khut ka chnat Income Tax ya kiwa yoh Notice heipor Demonetization wow wan pynche ki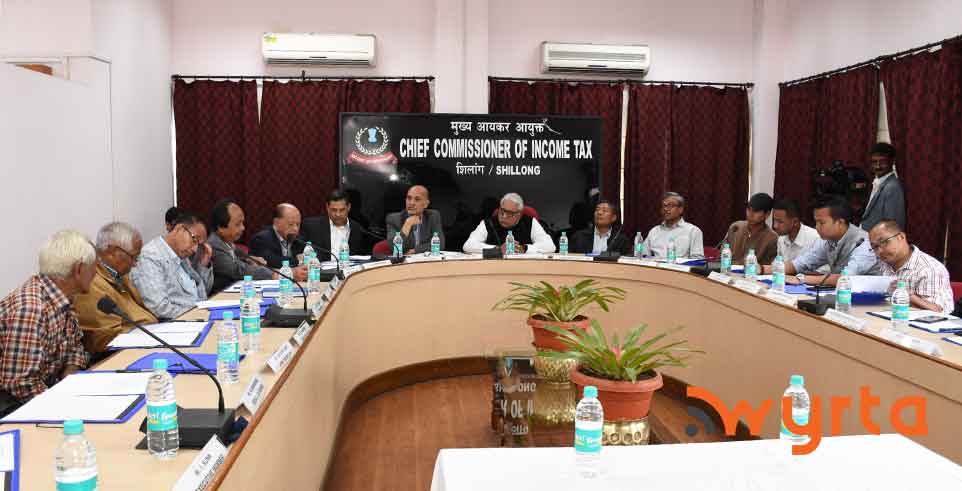 Shillong: Heiyatoh wa ki takit wa pynman da ka Income Tax Department yei rumkom thap poisa ki bru heipor wa ka Demonetization, ka Income Tax Department, Shillong da pynman ko ya ka yachem lang wa ki seiñbhalang ha Shillong haka 14 tarik uni u bnai.
Ya ka yalang da pynlai da u Aayakar Bhawan uwa man u Chief Commissioner ka Income Tax, Shillong, da em leh u R.S. Upadhyay, kiwa mihkhmat yaka Synjuk Ki Rangbah Shnong, Khasi Students' Union (KSU) wa naka Federation of Khasi, Jaintia and Garo People (FKJGP).
Advertisement
---
Hawa pynche ya i daw wa khut ya kani ka yalang, u Chief Commissioner (OSD) u Ronmoy Das da khana u wa ka chnat da pynman ko ya ka takit ya i rukom thap poisa heipor wa em ka Demonetization wei kattu emkaam wow pynkut noh ya kani ka takit wei da phah leh ya ki Notice cha kiwa thap poisa wa kynthup leh ya bru ri-loom (Tribal) kiwa ha kiwa boon ki por ym duk ki wow su ya ka Income Tax, tangwa kiwa wan chakhmat katkam wa phah haka Notice duna bha ki wei ye u man na i daw wa ki bru ri-loom sñiawthooh bakla ki ya kini ki Notice wei wa kammon wow pynbiang ya iwa emkaam.
U Chief Commissioner da pynche u yei lait ki bru ri-loom wow su Income Tax hapoh ka thaaiñ North East toh iwa em da ki kyndon, kam ha i por wa thap poisa da iwa rap boon heipor ka Demonetization. Ya ini da leh yow pyntikna wa ka poisa wa thap toh kawa khooid yow lait na i leh "Benami" wa kiwi ki rukom thap poisa wa pyrchah ya ka aiñ. Na kini ki daw kiwa thap poisa da yoh Notice ki wei kiwa yoh Notice hap wan ki cha khmat, deiwa rah ya ki kot ki sla wow pynyoo wa ki toh ki bru ri-loom, i khih i khan yong ki wei waroh ini toh iwa suk bha u leh.
Da ong u leh wa kitu kiwa ym wan chakhmat deiwa leh pyrchah ki wa kiwa ym sñiawthooh ya kani ka kaam daw wanrah ko wow toh Tax kiwa thap poisa iwa ka chnat ym kwah ko leh kamtæ emkaam donhi kiwa thap poisa kiwa yoh notice wow wan ki chakhmat yow pynche neiwon mih ka poisa wa thap ki. Lada ym leh ya ini ka chnat ym yohsa ko wow kheiñ Tax ya kani ka poisa kam ka "Unexplained Income".
Neiliang u President ka Synjuk Ki Nongsynshar Shnong Ka Bri U Hynniew Trep (SNSBH), u Dr. W.Kharshiing da sñiawkmen u ya ini i pynsñiawthooh Income Tax Department yow e sikai ya ki bru ri-loom yow sñiawthooh heiwon em ki waka aiñ yow lait u poi chei leh bakla heiyatoh waka poisa. Da kylli u leh wa lada thap poisa cha ki thaw wa ym toh kiwa haap hapoh ka Scheduled Area da ki bru ri-loom da toh Tax ki namo ym toh, u Chief Commissioner (OSD) Ronmoy Das da pynche u wa lada ya ka poisa kawa thap toh kawa mih na ki thaw Scheduled Area ym toh Tax ko tangwa ka nong kawa mih daw chah toh Tax ko lada mih ka nong ha ki thaw wa ym toh ki Scheduled Area.