Khut yalang u SP, WJH ya ki seiñbhalang hajrong ka NRC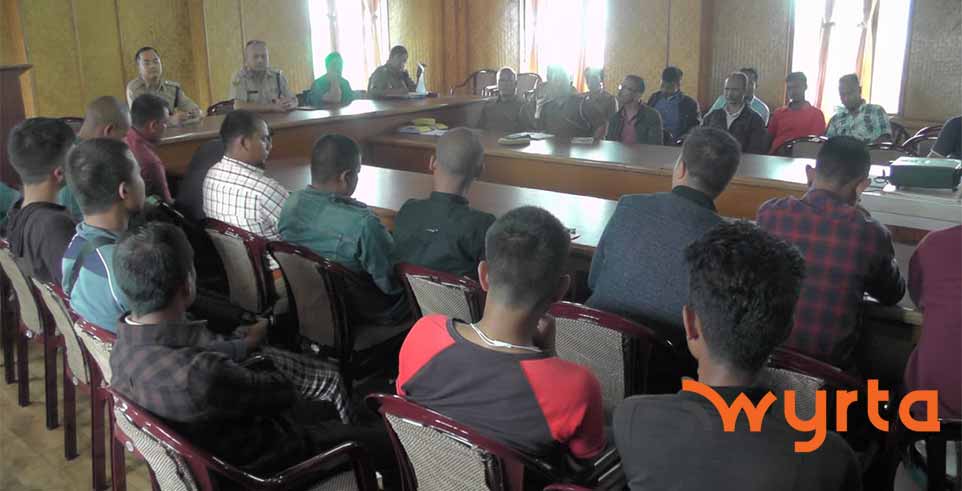 Jowai: Ka yung krehkaam u Superintendent of Police ka West Jaiñtia Hills hadien wa da pynbna ya ka NRC ha Assam, ynne ka sngi da khut yalang ko ya ki seiñbhalang wa em hapoh District ha Conference Room kani ka yung krehkaam.
Ya kani ka yalang da pynlai da u SP ka District, u Lakador Syiem, hei emlang u, Deputy Superintendent of Police (HQ), u MJ Marngar, ka DSP AID, ka Shana Mukherjee; ka EAC ka District, ka DD Syngai, MCS wa kiwi ki heh pulit.
Neiliang ki seiñbhalang da wan chimbynta da kiwa kitkaam wa ki dkhot ka KSU-JHDU, JYF, AJSU, HYC-JH, JSU, MPUF wa kiwi kiwi.
Ha kani ka yalang da phyllu yumut heiyatoh wa i wan psiah ki bru kiwa ym em u psiah pyrtuid ha ka NRC chapoh ka District heiwa ki seiñbhalang da kyntu ki wow pynjoor ya i kynreh ya ki kot ki sla ki baar jylla kiwa wan khih mylla, da kyntu leh ya ki bor ka JHADC wow chimkhia wow phah ya ki chnat hapoh ka Council wow pynman ki ya i kynreh kot, ki bor chnong wow man ki kiwa paitsiar wei wow pynkrehkaam pura ya ka Meghalaya Residents Safety Security Act 2016.
Neiliang u Lakador da kyntu u leh ya ki seiñbhalang wa ymtoh u chim ki ya ka aiñ ha kti yong ki hawa yoh yutip ki yei em ki baar jylla tangwa wow pyntip cha ki bor pulit wut-wut heiyatoh wa itæ kamjooh leh da kyntu u ya ki Dorbar Chnong wow leh ki kamjooh.