Kyntu u Conrad wow bood ya ka Campaign yong oo '#walkwithme' yow yada ya ka rymaw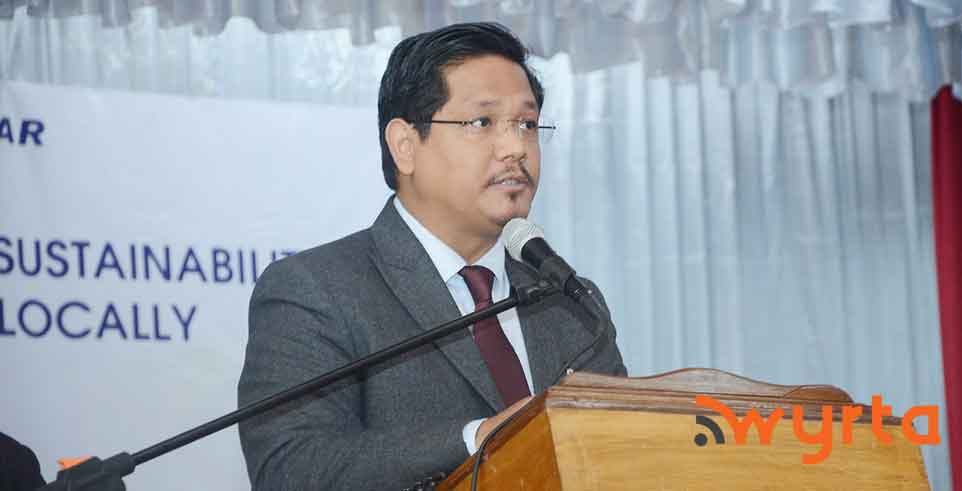 Advertisement
---
Advertisement
---
Shillong: U montri rangbah ka jylla, u Conrad K. Sangma ynne ka sngi da wan wai u ya ka yalang (Seminar) wa ar sngi hajrong ka phang "Environment Consciousness and Sustainability: To Know Globally and Act Locally" wa pynman da ka Internal Quality Assurance Cell (IQAC) yong ka Lady Keane College, Shillong.
Hawa e i klam u Conrad da pynksan u yei emkaam wa uwi pa uwi wow kreh neibynta wow yada ya ka rymaw deiwa ong wa emkaam leh wow sdang ya ki khih kiwa em duna i ktah ya ka rymaw wei kam wow wai laad ya kiwi wow yoh kreh ki.
U Conrad da yaroh u leh ya ki kaam wa da wanrah ha kani ka thaw puræ wa ki khynnah heiyatoh wow yada ya ka rymaw deiwa kyntu leh wa emkaam wow yakrehlang wa kiwi ki thaw puræ khnang wa ki kaam wow yada ya ka rymaw u man i iwa khlan.
Da pynksan u leh yei klam u Chief Conservator of Forests, u  C.P. Marak deiwa ong wa emkaam wa ka imlang sahlang u embynta ko wow yada ya ka rymaw neibhah ka jylla Meghalaya man ko kawi na ki jylla kawa yirngam bha hapoh ka ri.
"Ki khloo chnnong man ki kiwa kongsan tam hapoh ka jylla kiwa yarap wow yada ya ki mrad wei emkaam wa waroh u krehlang i chirup neibynta wow yada ya ka rymaw," da ong u Conrad.
Da kyntu u leh ya ki paidbah ka jylla wow embynta ha ka Campaign yong oo kawa tip kam ka '#walkwithme' wow pynduna yei pynmih tdem wa ka la-ær carbon.
Kani ka National Seminar wa ar sngi toh kawa da pynman chirup wa ka Meghalaya Basin Development Authority (MBDA).