Lai chimbynta u Mukul ha ka lehkmen dap 25 snem ka Central Puja Committee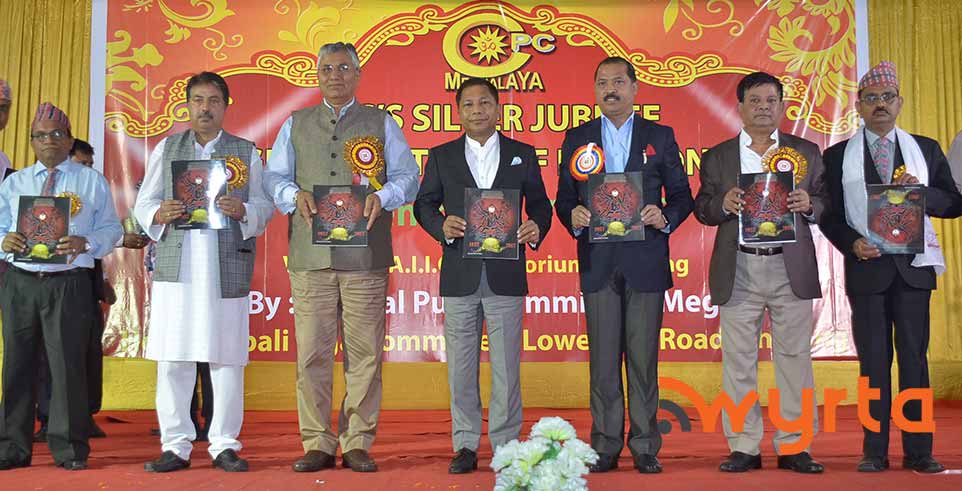 Advertisement
---
Shillong: U Montri Rangbah ka jylla u Dr. Mukul M Sangma ynne ka sngi da lai chimbynta u ha ka lehkmen dap 25 snem kawa tip leh kam ka Silver Jubilee Celebration heiwa ha uni u snem da tip kam ka "Get-Together of Harmony" yong ka Central Puja Committee (CPC) wa pynman ha Sri Aurobindo Institute of Indian Culture Auditorium, Shillong wa pynlai da ka Nepali Puja Committee, Lower Jail Road, Shillong.
Ha kani ka sngi da em leh u P.P. Chaudhary, Minister of State for Corporate Affairs and Law & Justice hei emlang u Member of Parliament, Shillong, Vincent H Pala.
U Dr. Mukul M Sangma hei klam yong oo da yaroh u ya ka CPC wa pynman ko ya kani ka rynsan wow e laad ya waroh ki niam u imlang ki hei suk hei saiñ. "Kani man ko kawa pher wa kiwi leh ye ki u bood ha waroh ka ri kamjooh yow pynyoo cha waroh ka ri waka Meghalaya man ko ka jylla wa im hei suk".
U Montri Rangbah leh da pyllait u ya ka Diamond Jubilee Puja Souvenir ka Nepali Puja Committee ynne ka sngi.
U Dr. Subrata Das uwa sdang ya ka CPC, Meghalaya da pyntip u wa ha u snem 1992 da sdang ya kani ka seiñ yow ye u pyllai bait ya ka Durga Puja wei da pyrchang ki leh wow wanrah ya ka sniawthooh yumut wa kiwi ki jait niam wa ki jait bru.
Ha kani ka sngi kiwa mihkhmat na kiwi ki jait niam leh da klam ki chaphang ka im suk im saiñ.
Ha kani ka sngi da em lang leh ka Minister, Information & Public Relations ka Dr. M Ampareen Lyngdoh ki MLA u Paul Lyngdoh, A L Hek, Shanbor Shullai wa u MDC ka KHADC u Adelbert Nongrum.