Lai pait u Conrad ya i chna ya ka SICPAC wa T. 151.33 Klur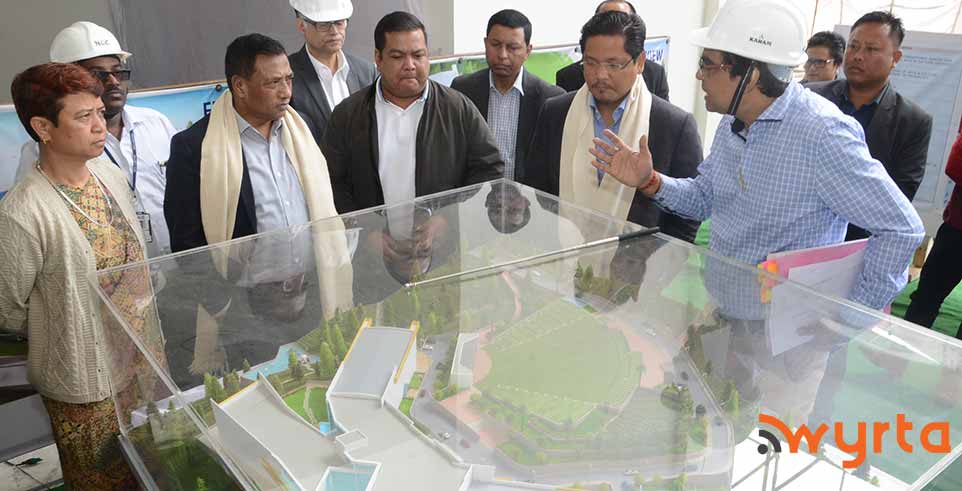 Jowai: U montri rangbah ka jylla, u Conrad Sangma ynne da lai sylli u ya i chna ya ka Shillong International Centre for Performing Arts and Culture (SICPAC) chirup wa u monri ka tnat Arts and Culture, u A.L. Hek.
Hawa klam ha kani ka lai sylli u Conrad da ong u wa ka sorkar daw pyntikna ko wa i kreh u man i iwa lai chaaid chaaid yow pyndep ya kani ka kaam hapoh i por wa biang.
Kani ka thaw daw man ko kam ka International Convention Centre heiwa daw  ye u pynman ha ka ya ki tamasa wa heh kam ki put ki tem, ki leh drama, ki yaaw pynyoo film namo ki Film Festival, wa kiwi kiwi.
Kani ka thaw em ko ha Mawkasiang wa em ha New Shillong Township, heiwa daw em ar tylli ki Auditorium kiwa ye u pdiang hadooh 1750 wa 612 ngut ki bru kamjooh leh daw em ka Theatre Complex kawa khian kawa ye u pdiang 325 ngut ki bru. Haphrang kani ka Complex daw ye u pdiang ya ki tamasa heh kawa ye u pdiang 15,000 ngut ki bru neibynta ka Open Air Concert. Ka SICPAC daw man ko ka thaw kawa ye u esikai ha ka kaam put wow tem, wow chna film, wa kiwi ki kaam pynwyrngia neibynta ka jylla Meghalaya wa ka thaiñ mihsngi waroh kawi.
Kiwi kiwa da em ha kani ka sngi toh u MLA ka Mawryngkneng, u David Nongrum, u P.S. Dkhar D.C. East Khasi Hills, ka M.W. Nongbri, Director of Arts and Culture wa kiwi kiwi ki heh sorkar.
Kani ka SICPAC chongdor ko wow chna hadooh T. 151.33 Klur wei da booh thong wow pyndep chwa u kut uni u snem 2018.