Lapang lays foundation stone for MBT road at Marmain, inaugurates renovated school building at Jowe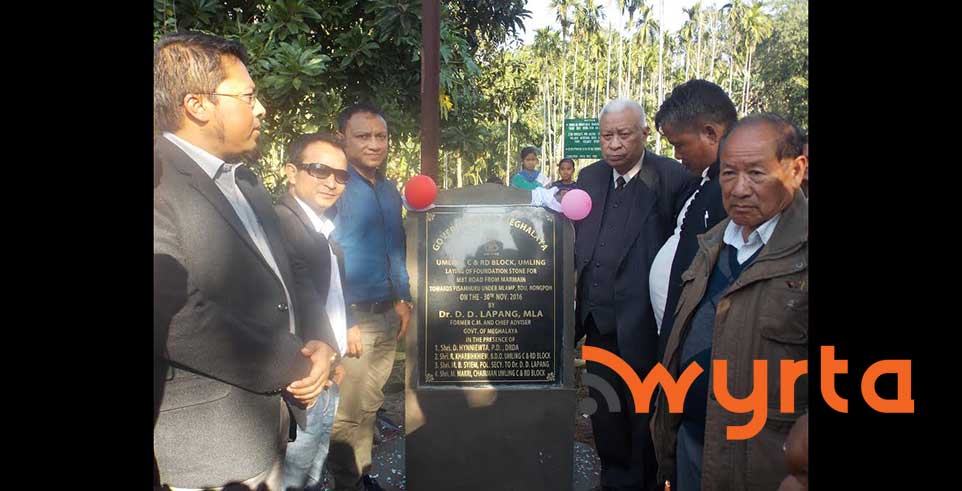 Advertisement
---
Shillong : Dr D. D. Lapang, local MLA and Chief Adviser to the Government of Meghalaya laid the foundation stone for construction of Motorable blacktopping road at Marmain village on the 30th November, 2016 in presence of D. Hynniewta, ADC & Project Director, DRDA Ri Bhoi District, M. Makri, Chairman, Umling C&RD Block, R. R. Kynsai Makdoh, Ex-MDC, R. Kharbihkhiew, BDO, Umling C&RD Block among others besides headmen and village elders from different villages of Marmain area.
This MBT Road is the Pilot Project which was sanctioned under Meghalaya Livelihood Access to Market Programme (MLAMP) Scheme of the Meghalaya Basin Development Agency (MBDA) under Umling C&RD Block at an amount of Rs. 30 Lakhs for 1 km from Marmain towards Pisamhuru village.
Later in the day, Dr D.D Lapang inaugurated the renovated school building of Jowe Presbyterian School Lower Primary School in presence of M. Makri, Chairman, Umling C&RD Block, R. R. Kynsai Makdoh, Ex-MDC, F. Khymdeit, J. Mallai, Headman of Jowe, village elders and village community. The school building which got damaged as a result of cyclone was renovated under Relief fund from Umling C&RD Block at a sanctioned amount of Rs. 1.50 lakh.
During the programme, the village authority handed over the memorandum to Dr. D D. Lapang which include metalling and blacktopping of road, drinking water supply, community hall etc. Dr. Lapang assured that the community hall will be sanctioned under SRWP Scheme whereas other requirements will be taken up with the concerned departments at the earliest. (MIPR)
Advertisement