Mega Credit Camp under PMMY organized at Ampati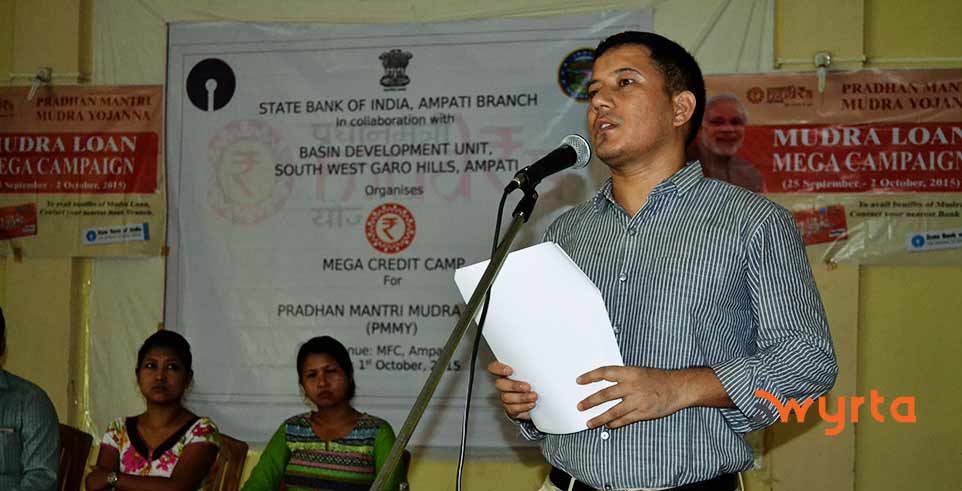 Ampati: State Bank of India, Ampati Branch, in collaboration with Basin Development Unit, South West Garo Hills, organized a Mega Credit Camp under Prime Minister's Mudra Yojana at Multi-Facility Centre, Ampati on Thursday, which was attended among others by the officials of Labour and Cooperative departments, IBDLP staff and most importantly the existing entrepreneurs and other prospective entrepreneurs of the district.
Altogether 137 partners were enrolled under Mudra scheme and forms were also distributed to the partners on the occasion.
Participating in the camp as the chief guest, the Deputy Commissioner of the district, Ram Singh spoke at length as to why and for whom the scheme was launched and how the scheme could be linked with activities under IBDLP. Urging upon the participants to avail the scheme and make optimum use of it, the Deputy Commissioner also implored upon them to shed their laidback attitude and to work hard with all sincerity to be successful in their ventures.
Earlier, the Nodal Officer for Mudra, Garo Hills Region, S.C. Dey gave a detailed account on the scheme, the criteria involved and the documents required for availing the scheme and also gave suggestions as to which sectors would be most viable to be taken up under the scheme.
Branch Manager, SBI, Ampati, A. W. Momin was also among the speakers to elaborate about the scheme.
It may be mentioned that PMMY under Micro Units Development & Refinance Agency (Mudra), is a new institution set up by the Government of India for development and refinancing activities related to micro units, with a purpose to fund the non-corporate small business sectors. (MIPR)