MSL: Jop boon kool ka Lumniwar waka Mynthong ha Jowai wa Khliehriat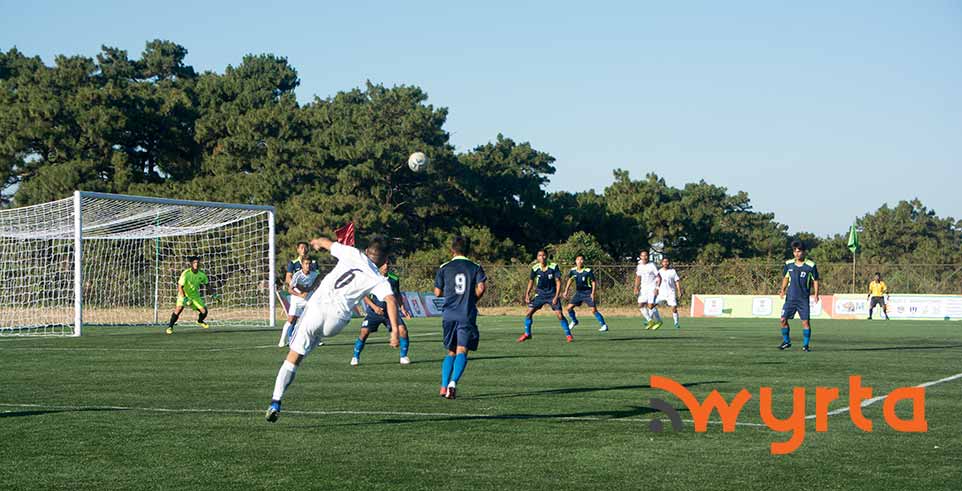 Advertisement
---
Jowai: Ha ki yalehke Meghalaya State League (MSL) 2019 wa pynman wa ha Jowai wa ha Khliehriat, ka Lumniwar waka Mynthong da jop boon kool ki ynne ka sngi. Ka Lumniwar da jop ko da 9-0 katwa ka Mynthong da jop ko da 7-1.
Haka Group-A wa pynman ha Kiang Nangbah Stadium, Jowai, ynne ka sngi da pynman du kawi ka yalehke hapyrdi ka Umkaber SC (Tyrsad) waka Lumniwar SC (Ri-Bhoi).
Ha kani ka yalehke, ka Lumniwar da jop suk ko yaka Umkaber da 9-0.
Ya ki kool ka Lumniwar kynthup ko ya ka Hat-trick na u Shemjingmut Kharmyndai uwa thap kool haka minit wa 4,21 wa 45+1, u Michael Marweiñ haka minit wa 17, u Banteilang Lyngdoh haka minit wa 46, u Andyson Lapang haka minit wa 52, u Kitdorlang L. Nonglait haka minit wa 80 wa u Bobbystar Nongkseh haka minit wa 81 wa 84.
Ya i naam Man of the Match da yoh da u Shemjingmut Kharmyndai uwa yalehke ka Lumniwar.
Haka Group B wa pynman ha Khliehriat, ka Sutnga SSCC da jop ko yaka Iatyllilang Lumsehkot SC da 1-0 da ka kool wa thap u Rilang Malang haka minit wa 18.
U Sbing Chyrmang (Goal Keeper) Sutnga da yoh u yei naam Man of the Match.
Haka yalehke wa ar, ka Mynthong SC da jop ko yaka Jalaphet Brisumer SC da 7-1.
Yaka Mynthong da thap 5 kool da u Dieye Hamidou uwa thap kool haka minit wa 11, 40, 45, 52, wa 66, u Dameshwa Syih haka minit wa 84, u Timmy Ryngkhlem haka minit wa 90+2 katwa yaka Jalaphet da thap da u Heiplanmi Kassar (Own Goal) haka minit wa 20.
Ye naam Man of th Match da yoh u Dieye Hamidou.