Mynstep u wan tem ka DJ na Kolkata ha ka Fete yong ka 7 Wasa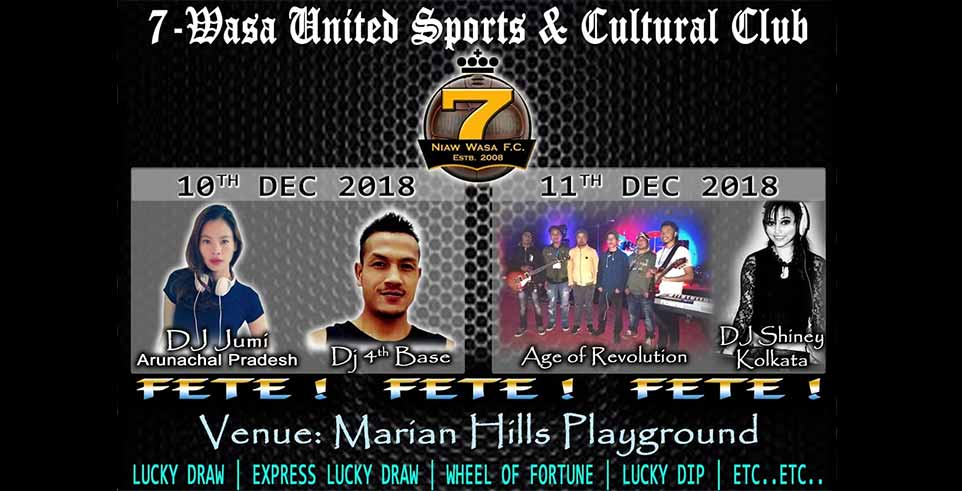 Advertisement
---
Jowai: Ka Fete wa ar sngi yong ka 7 Wasa United Sports and Cultural Club kawa da sdang ynne ha Madan ka Marian Hills HSS u kut noh ko mynstep ka 11 tarik.
Ha kani ka fete daw em ki yalehke wa ha rukom nadooh ka Express Lucky Draw, Wheel of Fortune, Lucky Dip, wa kiwi kiwi.
Advertisement
---
Wow pynwyrngia ya ki paidbah daw wan tem ka dhab tem Age of Revolution waka DJ Shiney na sorbah Kolkata.
Ha kani ka sngi khaddooh daw pynman leh ya ka Housie Bumper Round T.50,000 (Direct House) wei chwa wow kut daw pynman ya ka khle nasib (T. 30 chi ticket) heiwa ki prize kynthup ki ya kini hawah:
First Prize – T. 1,00,000
Second Prize – Scooty
Third Prize T. 30,000
Wa soo tylli mobile ki Consolation Prize.
Advertisement