North East Agro Business and Trade Fest innuagurated in Shillong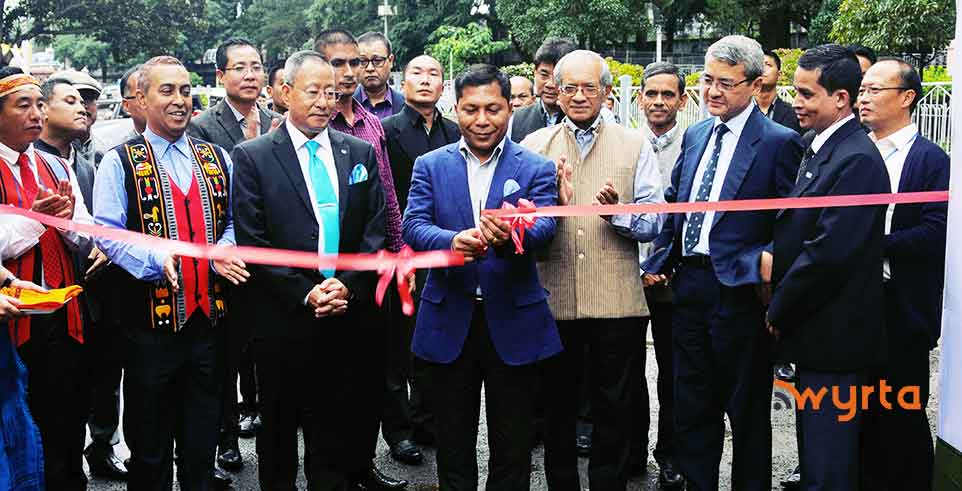 Shillong: The Chief Minister Dr Mukul Sangma today inaugurated the four-day long North East Agro Business and Trade (NEAT) Fest 2015 at the premises of U Soso Tham Auditorium. The annual festival of Self Help Groups which will conclude on September 25 is being organized by the North Eastern Region Community Resource Management Project (NERCORMP), a joint project of the North Eastern Council, Ministry of DoNER and International Fund for Agricultural Fund (IFAD).
Speaking to the gathering of communities from all the 10 districts of NERCORMP, the Chief Minister expressed his happiness to be associated with a programme that is linked with the most important section of the population, the farmers, who take care of the nutritional needs of all. He said such festivals provided an opportunity to reach out to the farmers who have not been able to leverage on their strengths. Dr. Sangma said that IFAD through NERCORMP is creating the platform to ensure that people do not lose hope in the sustainability of farming activities. He also added that there is a need to look at creating sales so that farming and agriculture become more attractive and remunerative.
Advertisement
---
"Our strength lies in our people, our land and our way of life, that is agriculture", Dr. Sangma said adding that NERCORMP needs to scale up the production and corroborate with line departments on the best farming practices, so to reverse the trend of people giving up farming and looking at other options of livelihood. From the state government's side he assured NERCORMP and NEC of supplementing each other's efforts in this regard.
NEAT FEST 2015 is the 7th edition with the theme, "Showcasing diversity of People, Culture & Food". Self Help Groups from all the 10 districts of NERCORMP are participating and showcasing handloom and handicraft items, value added non timber forest products (NTFPs), honey and many other such products and produces. Indigenous food stalls are also set up wherein the visitors can taste traditional food items. Besides giving communities an opportunity to showcase their products the fest also provides a platform to interact, share and learn from each other.
NERCORMP as a developmental initiative of the Government of India and IFAD started in the year 1999 and since then has been working earnestly towards achieving its objective to improve the livelihood of vulnerable groups in a sustainable manner through improved management of their resource base in a way that contributes to preservation and restoration of the environment. The project covers 10 districts in four states of the region, Assam, Meghalaya, Manipur and Arunachal Pradesh. (MIPR)