Advertisement
---
Advertisement
---
---
Advertisement
---
Advertisement
Pyllait ka UGC ya ki pyrtuid yong ki 24 tylli ki skurbah wa thok hapoh ka ri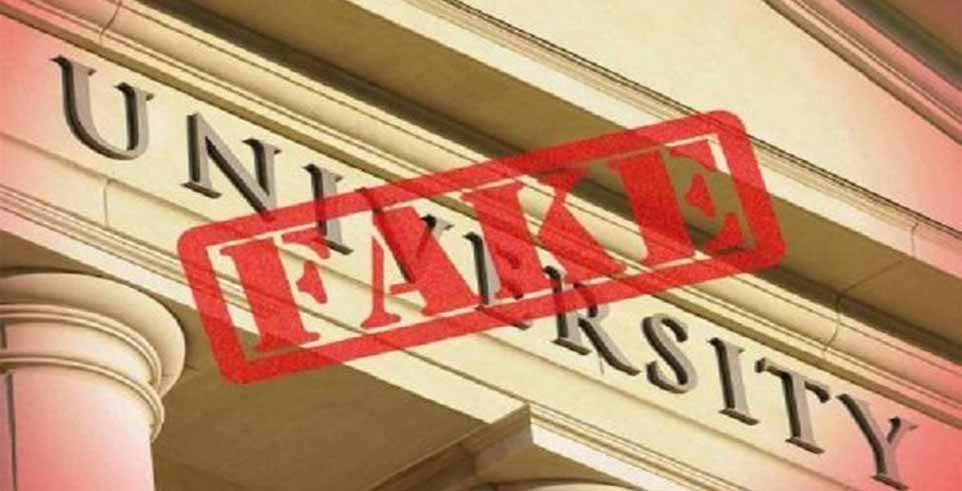 New Delhi: Yow pynsuk ya ki paidbah khamtam ya kiwa lai puræ, ka University Grants Commission (UGC) kawa pait ya ki skurbah ha waroh kawi ka ri da pybna ko ya ki 24 tylli ki skurbah wa thok (Fake Universities).
Ka UGC da ong ko wa kini ki 24 tylli ki skurbah krehkaam ki deiwa lai lait ya UGC Act wei ymye ko wow e kawon kawon ka Degree.
Kini ki Skurbah man ki kamni hawah :-
Bihar
Maithili University / Vishwavidyalaya, Darbhanga, Bihar.
Delhi
Commercial University Ltd., Daryaganj, Delhi.
United Nations University, Delhi.
Vocational University, Delhi.
ADR-Centric Juridical University, ADR House, 8J, Gopala Tower, 25 Rajendra Place, New Delhi – 110 008.
Indian Institute of Science and Engineering, New Delhi.
Viswakarma Open University for Self-Employment, Rozgar Sewasadan, 672, Sanjay Enclave, Opp. GTK Depot, Delhi-110033.
Adhyatmik Vishwavidyalaya (Spiritual University), 351-352, Phase-I, Block-A, Vijay Vihar, Rithala, Rohini, Delhi-110085
Karnataka
Badaganvi Sarkar World Open University Education Society, Gokak, Belgaum, Karnataka.
Kerala
St. John's University, Kishanattam, Kerala.
Maharashtra
Raja Arabic University, Nagpur, Maharashtra.
West Bengal
Indian Institute of Alternative Medicine, Kolkata.
Institute of Alternative Medicine and Research,8-A, Diamond Harbour Road, Builtech inn, 2nd Floor, Thakurpurkur, Kolkatta – 700063
Uttar Pradesh
Varanaseya Sanskrit Vishwavidyalaya, Varanasi (UP) Jagatpuri, Delhi.
Mahila Gram Vidyapith/Vishwavidyalaya, (Women's University) Prayag, Allahabad, Uttar Pradesh.
Gandhi Hindi Vidyapith, Prayag, Allahabad, Uttar Pradesh.
National University of Electro Complex Homeopathy, Kanpur, Uttar Pradesh.
Netaji Subhash Chandra Bose University (Open University), Achaltal, Aligarh, Uttar Pradesh.
Uttar Pradesh Vishwavidyalaya, Kosi Kalan, Mathura, Uttar Pradesh.
Maharana Pratap Shiksha Niketan Vishwavidyalaya, Pratapgarh, Uttar Pradesh.
Indraprastha Shiksha Parishad, Institutional Area,Khoda,Makanpur,Noida Phase-II, Uttar Pradesh.
Odisha
Nababharat Shiksha Parishad, Anupoorna Bhawan, Plot No. 242, Pani Tanki Road,Shaktinagar, Rourkela-769014.
North Orissa University of Agriculture & Technology, Odisha.
Puducherry
Sree Bodhi Academy of Higher Education, No. 186, Thilaspet, Vazhuthavoor Road, Puducherry-605009
* Ka Bhartiya Shiksha Parishad, Lucknow, UP – dang bichaar ya ka hapoh yong ka yung kasari u District Judge – Lucknow
Katkam ka University Grants Commission Act, 1956 hapoh ka kyndon Section 22(1) da ong wa wa du ki University wa chna da ka Central, State/ Provincial Act namo ki skurbah kiwa da tipmit hapoh ka kyndon Section 3 namo ka thaw puræ wa tipmit wei da ebor da ka aiñ ka Parliament (Act of Parliament) wow ye u e sikai ya ki Degree Course hapoh ka Section 22(3) yong kani ka aiñ.
Katkam kani ka aiñ hapoh ka kyndon Section 23 da khang pyrchah wow pynemkaam ya i kyntien "University" da kawon kawon ka thaw puræ.