Pynbna u CEM ka KHADC ya ki Portfolio ki EM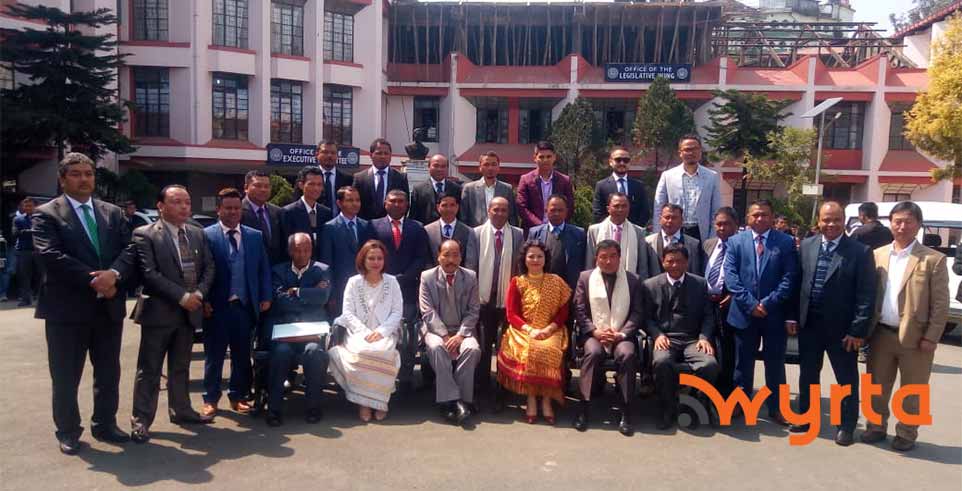 Advertisement
---
Shillong: U CEM wa thymme ka KHADC u Teinwell Dkhar ynne ka sngi da pynbna u ya ki Portfolio ki EM ka EC hapoh ka Rule 31 of the Assam and Meghalaya Autonomous District (Constitution of District Council) Rules, 1951 heiwa wa kynthup wa u CEM da em waroh 11 ngut ki MDC kiwa man EM.
U CEM u ksoh u yaka General Administration Department, Forest Establishment, Law and Legal Matters, Posting, Transfer and Appointments wa kiwi kiwi ki chnat wa ym em e cha kiwi.
U Deputy CEM, Pyniaid Sing Syiem u pait u yaka Elaka Administration wa Finance.
U Titosstar Well Chyne u ksoh u yaka Council Building wa kynthup ya ka Council Asset, Planning waka Traditional Medicine.
U Martle Mukhim u ksoh u yka a Development, Marriage & Divorce.
U Paul Lyngdoh u pait u yaka Trade, The Khasi Hills Autonomous District (Land Development & Building) wa Education Department.
U Victor Ranee u ksoh u yaka Revenue Collection, Health & Sanitation.
U Teibor Pathaw u ksoh u ya ka Labour Licence and Enforcement.
U Mitchell Wankhar ksoh u yaka Town Committees, Land, Mines and Minerals.
Ka Macdalyn Sawkmie Mawlong u pait ko yaka Taxation, Information and Technology.
U Rangkynsai Kharbuki u pait u yaka Youth Affairs, Water Resources wa Arts & Culture.
U Jambor War da e ya oo yaka Market & Fisheries.