Pynchlur u Chief Justice wow chakri dei mynkna ya kiwa dooh wa duk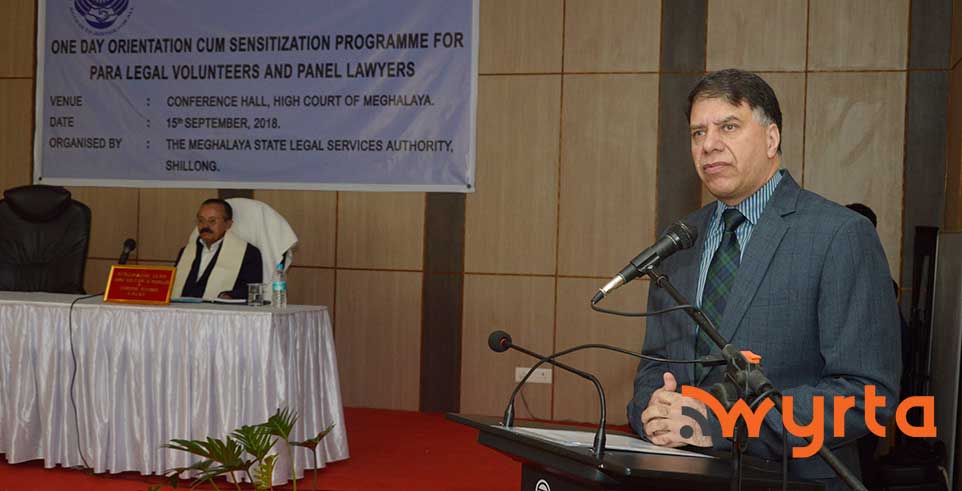 Jowai: "Phi da leh phi yei kaam u Blai wei u Blai leh heiwon iwon wa em phi daw theh u yei kyrkhu yong oo neibhah phi da ye phi u ñiaam yei umkhmat ki bru wa dooh wa duk," da ong u Hon'ble Justice Mohammad Yaqoob Mir, u Chief Justice ka High Court ka Meghalaya uwa man leh kam u Patron-In-Chief ka Meghalaya State Legal Services Authority (MSLSA) hawa yaklam u haka yalang ki Para Legal Volunteers and Panel Lawyers ka MSLSA haka "One Day Orientation –cum-Sensitisation programme for Para Legal Volunteers and Panel Lawyers" kawa pynman ha ka 15 tarik uni u bnai ha ka Conference Hall ka High Court ka Meghalaya.
Hawa wai ya kani ka yalang u Chief Justice da yaroh u ya ki Para Legal Volunteers & Panel Lawyers kiwa wan na ki 6 tylli ki District wa kynthup ya ka East Khasi Hills, West Jaiñtia Hill, West Khasi Hills, South-West Khasi Hills, East Jaiñtia Hills wa ka Ri-Bhoi District.
Advertisement
---
Da ban joor u leh wa emkaam wow bood ya ka Article 39A ka riti synchaar ka ri kawa da pynkrehkaam ya ka Legal Services Authorities Act, 1987 kawa e yarap wow yaleh mukotduma dei mynkna lyngba ka National Legal Services Authority (NALSA) wa kiwi kiwi ki Scheme yow kynjoh wei wow yarap ya kiwa dooh wa duk kiwa ym em wa yarap ya ki katkam ka luti krehkaam ka aiñ.
Sa iwi i liang wa ye u yarap toh lyngba ki Welfare Scheme kiwa da chna da ka NALSA kam ka NALSA (Legal Services to Disaster Victims through Legal Services Authority) Scheme 2010, NALSA (Victims of trafficking and commercial sexual exploitation) Scheme, 2015 wa kiwi kiwi.
Tangwa da ong u leh wa kiwa yoh myntoi toh u emkaam wow sñiawthooh ki ya kini ki Scheme yow bien ki leh wow thooh yarap wei kamjooh wow pdiang ya kini ki Scheme khlem iwon iwon i artatien.
Chooh chooh da ong u wa i yarap mynkna toh u man i kam i su kylliang ya ka imlang sahlang deiwa ym em pyrkhat ya ka poisa namo ka nong wei man ko leh ka kabu ksiar ya ki muktiar wow wanrah ya ki mukotduma wa phær wow yatai hakhmat ka yung bichaar.
Ha kani ka yalang de em leh u Justice S.R.Sen, Executive Chairman, MSLSA, u Registrar General, High Court ka Meghalaya ki District Judge wa kiwi kiwi.