Pynkup burom ka Dorbar Chnong Madankynsaw-Mowkyndeng ya ki waheh daka "Hall of Grace"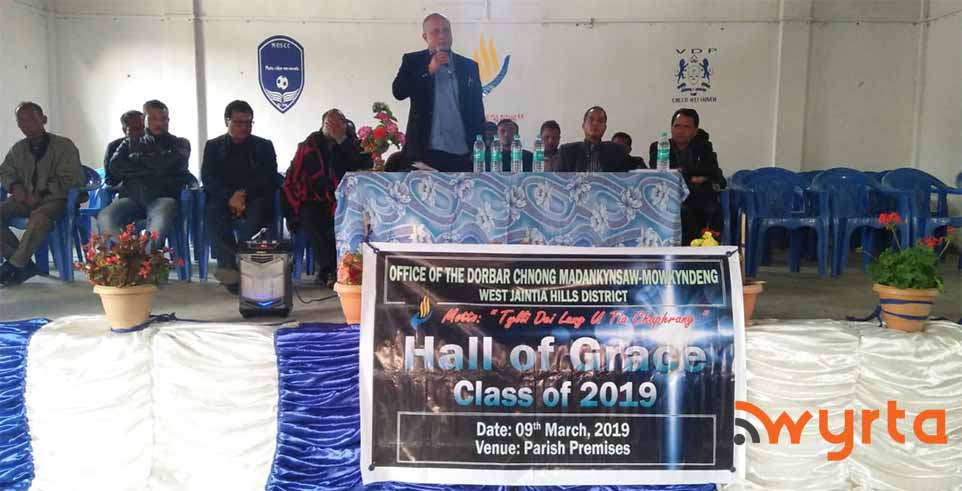 Advertisement
---
Jowai: Ynne ka sngi ka 9 tarik, ka yung krehkaam ka yung dorbar chnong Madankynsaw-Mowkyndeng da pynkup burom ko ya ki waheh yong ka chnong wa kiwa na baar ka chnong leh, kiwa da lehbha næ yarap hei wow pynku yaka chnong ka thaw daka "Hall of Grace" Class of 2019.
Kani toh ka sien kawa ar wada e ya kani ka khusnaam kawa man kawa ha khlieh dooh wada e neiliang yong ka chnong.
Kiwa yoh ya kani ka khusnaam ynne ka sngi man ki kamni ha wah:
U Robinus Syngkon – Local MDC wa na ka chnong Madankynsaw-Mowkyndeng.
U Coming One Ymbon- MLA Raliang Constituency.
U Paul Synnah – Executive Engineer PHE
U Dwick Lamin- DTO Khliehriat, East Jaiñtia Hills
U (L) Edwin Synnah-Waheh Chnong warim.
Ha kani ka sngi da yoh leh yei klam neiliang ki kattu katni ki waheh wa sian kiwa da emlang ha kani ka saam ya ka khusnaam Hall of Grace. Neiliang u Dr. Tyngkan uwa naka chnong Nongkynrih uwi naki waheh wa emlang, da e khublei u ya kiwa chong chnong heiyatoh wa i yoh MDC ka chnong yong ki kawa man ka sien wa nyngkong.
U Secretary chnong, u Joshwa Syngkon, hawa e u ya ki ktien sñiawngooh da e khublei u ya waroh ki waheh yong ka chnong khamtam ya u waheh chnong u Danny Bosco Shadap uwa da ye u wanrah ya chiboon i kylla hapoh ka chnong. Da ei khublei u leh khamtam yaki kiwa yoh ya ka khusnam kiwa da chong hok wow yoh ya ka.