Pynkylla ka chnat Railways ya ki rel wow booh ya kiwa yoh COVID-19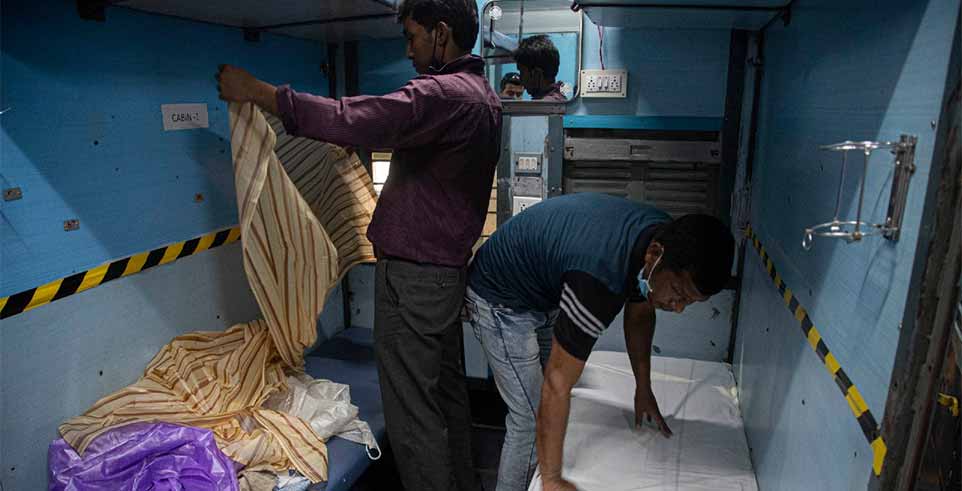 Kam chibynta yong i yakhun pyrchah ya ka khlam u COVID-19 ka chnat rel ka ri namo ka Indian Railways da pynkhreh ko ya ki 20,000 tylli ki Coach wow man kam ki thaw khang-kset (Quarantine/ Isolation) Coach neibynta i emkaam ka ri.
Heiyatoh wa ini da yaklam leh wa ka Armed Forces Medical Services, ki chnat i chait i khiah kiwa boon ki chnat (Zonal Railways) wa ka Ayushman Bharat, Ministry of Health, Government of India heiwa da pynkhreh yeini ha ki san bynta (Five Zonal Railways).
Kini ki 20,000 tylli ki Coach ye ki wow pdiang hadooh 3.2 lak ngut ki bru wei i kreh hajrong ki 5,000 tylli ki coach wa ye u booh hadooh 80,000 tylli ki palong dang lai i chaphrang.
Heiyatoh wa ini du ki Non-AC ICF Sleeper Coach donhi kiwa da booh wow pynkhreh heiwa daw em i thaw sum  heiwa da booh ya ki borti, mug, sabon wa kiwi kiwi.
Ka Cabin wa nyngkong daw man ko kam ka thaw pynlang ya ki dawai dachin wa kiwi kiwi kiwa emkaam wow e sumaar ya ki bru.
| | | | | | |
| --- | --- | --- | --- | --- | --- |
| Sl. No. | Zone | Number of Coaches to be Converted | Sl. No. | Zone | Number of Coaches to be Converted |
| 1. | CR | 482 | 9. | NWR | 266 |
| 2. | ER | 338 | 10. | SR | 473 |
| 3. | ECR | 208 | 11. | SCR | 486 |
| 4. | ECoR | 261 | 12. | SER | 329 |
| 5. | NR | 370 | 13. | SECR | 111 |
| 6. | NCR | 290 | 14. | SWR | 312 |
| 7. | NER | 216 | 15. | WR | 410 |
| 8. | NFR | 315 | 16. | WCR | 133 |