Pynman ka DLSA, SWKHD da ka Bike Rally wa i pynsñiawthooh paidbah chaphang ki aiñ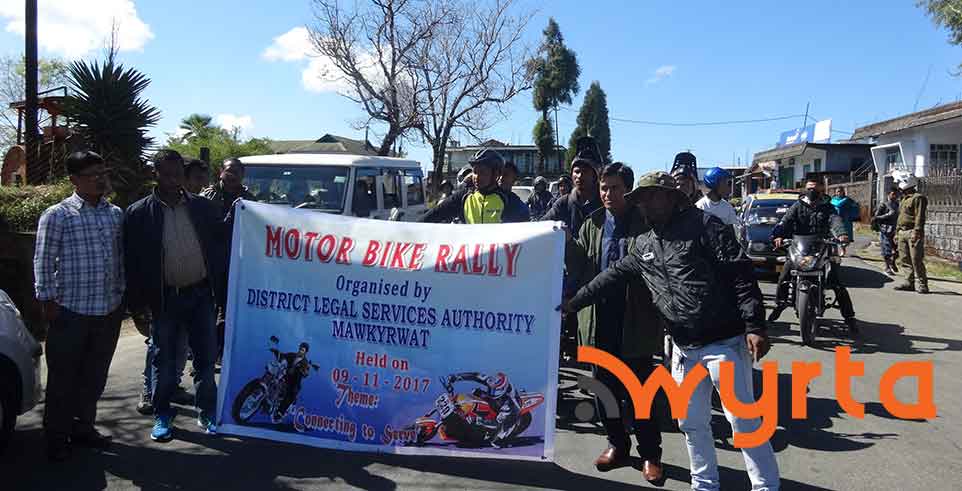 Advertisement
---
Shillong: Chirup wa ka ri waroh kawi ka District Legal Services Authority (DLSA), South West Khasi Hills District, Mawkyrwat ynne da sdang ya ka 10 Day Nationwide Campaign "Connect To Serve", "Access of Justice to All" deiwa pynman ya ka Bike Rally nadooh na PWD (IB) Mawkyrwat, deiwa lai lyngba ki kattu katni ki chnong wa em hajan ka Mawkyrwat wa na ki yaaw.
Ha kani ka Rally da wan hadooh 30 ngut kiwa yah thuk thuk wei da kaweh ya ka lama sdang da u D. Dann District Sports Officer, Mawkyrwat.
Da pynman ya ka pynsñiawthooh paidbah ha Block Development Officer Mawkyrwat C& RD Block heiwa da pyllai ya ka da u A. Nongbri, BDO Mawkyrwat C&RD Block wei da wan em bynta da ki paidbah, ki seiñbhalang, ki Para Legal Volunteers wa kiwi kiwi.
Ka D. Kharshiing, EAC da batai ko hajrong i rukom krehkaam ki Para Legal Volunteer (PLV) ha ki chnong wa i kaamram yong ki hapoh ka DLSA deiwa ong wa ki PLV pynyajan ko ya ki paidbah wa ka sorkar.
U C. Shadap, Officer in Charge ka Mawkyrwat Police Station da klam u ha jrong i kaamram ki pulit hei wow e ya i hok ki paidbah.
Ka I. L. Mawphlang (Advocate, PP) da klam ko hajrong ki Fundamental Rights, ka IPC, CrPC & free Legal Aid.
Kiwi kiwa da klam kynthup ki ya ka L. Warjri (APP), ka N. Hahshah (APP).
Kani ka yalang pynsñiawthooh da kut ko da ki kyntien e khublei na u D. Dann, District Sport Officer, Mawkyrwat.
Da pyntip leh wa daw pynman kiwi kiwi ki program hadooh ka 18 tarik uni u bnai chirrup i lai pynsñiawthooh ki PLV ha man la ki thlu yung ya ki hok yong ki paidbah.