Pynman ka National Health Mission Employees Association of Meghalaya ya ka yachem wa le ha Jowai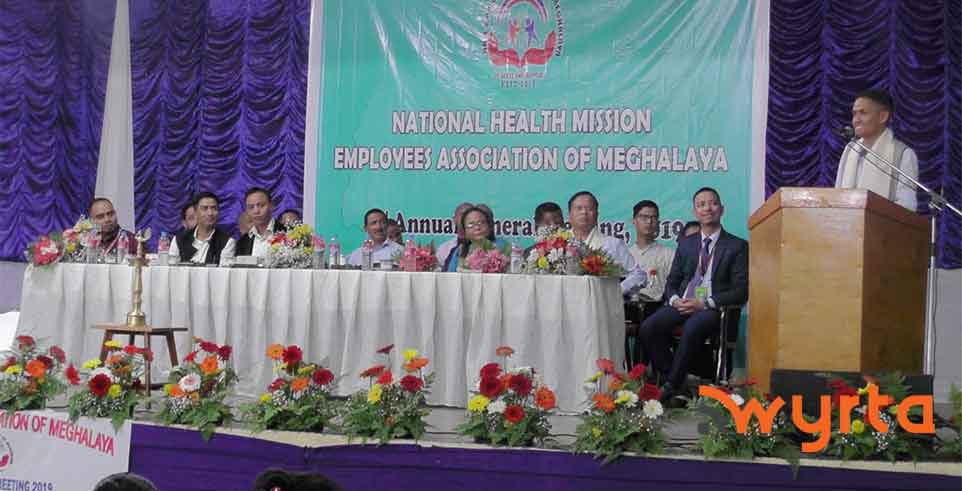 Advertisement
---
Jowai: Ki wakreh ka National Health Mission hapoh ka seiñ yong ki wa tip kam ka National Health Employees Association of Meghalaya (NEAM) ynne ka sngi da pynman ki yaka yachemlang wa le næ 3rd Annual General Meeting ha Chutwakhu Indoor Sport Hall Jowai wa da wan emlang da ki wakreh yong ka na kylleiñ ka jylla. 
Ha kani ka yachemlang yong ki da wan emlang u Wailadmiki Shylla, Chairman ka Meghalaya Commission on Resource Mobilisation Govt. of Meghalaya kam u kongsan, chirup i em u Lakhon Dkhar wa u Octomewot Lamin, ki MDC ka JHADC nalor kiwi wa chah khut sñiawbha.
Advertisement
---
Hei batai pynche wa yatoh waka Association, u Johnson J. Nongbet General Secretary CEC, ong u wa yaka NEAM da seiñ hajrong ka yurim wow pynyoh ka rynsan neibynta u pynsñiaw yei eh i khoo yong ki para dkhot, neibynta u wanrah i suk i chngaaiñ, u pynyoh yei hok kam ki wakreh, wei u yoh i yada nalor wow pynku yei chait i khiah ki paidbah hei dur i rukom waphær waphær wa kiwi. 
U Wailadmiki Shylla kam u MLA ka Jowai Constituency da pdiang sñiawbha u ya waroh ki wakreh ka NEAM, wei e khublei u leh yei kaam waki da kreh ki heiyatoh wei chait khiah wa kynthup nadooh ka Community Health Care, Primary Health Care, Sub- Centre wei wot hadooh ka Civil Hospital.
Da ong haroh u wa nadooh wa wan ka National Health Mission da yoo ya chiboon i kylla wei kamwa man kattæ da boon kiwa yoh yarap khamtam ki nongkyndong wa wan naki yung wa dooh wa duk, wei da pynrap u deiwa ong, waroh i thmu i angnood ka NHM lai bait lai ryntih ki toh lyngba i kreh chitom wei chimkhia yong ki yei kaam.
Kiwi won wa e i klam kynthup u Kmenbhalang Khongwir, Vice President CEC, u Dr. R. Pohsnem, General Secretary MMSA Jaiñtia Hills Unit wa kiwi kiwi haka yalang wa da pynlai da ka Lightsie Marbaniang, Executive Member CEC.
Advertisement