Rah ka Ryntih FC ya i naam jop ha ka lympung Football ha Wahiajer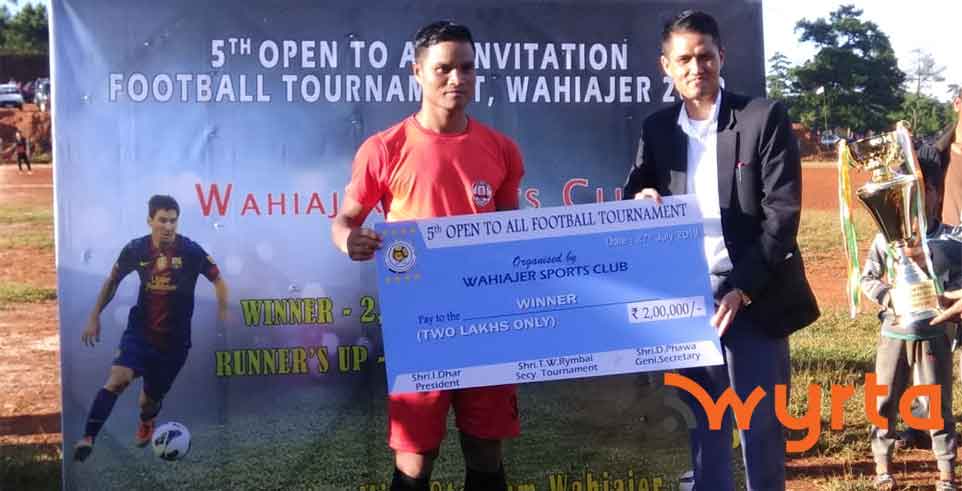 Jowai: Ynne ka sngi ka yakhun Final yong ka 5th Invitation Knockout Football Tournament ha Wahiajer da pynman hapyrdi ka Ryntih FC wa ka Combine SC.
Ha kani ka sngi da wan pynhaap pyrda ya kani ka lympung da u montri ka sorkar uwa man leh u MLA ka thaaiñ, u Sñiawbhalang Dhar hei emlang u CEM ka JHADC, u Thombor Shiwat; u MLA ka 2 Jowai Constituency, u Wailadmiki Shylla, ki MDC ka JHADC wa kiwi kiwi.
Ka yakhun Final ynne da jop da ka Ryntih FC da 2-0 wei ya kini ki kool da thap da u Sheen Shoktung ha ka minit wa 58 wa na u Debinroy Nongspung ha ka minit wa 78.
Da ini i jop ka Ryntih FC da rah ko ya ka song poisa wa T. 2 Lak katwa ka Combine FC won da yoh ko T. 1 lak.
Ya i naam Man of The Match da rah da u Sheen Sohktung yong ka Ryntih FC wei ya kani ka khusnaam da ekti da u MDC ka JHADC, u R. Tang, ya ka khusnaam cha kawa jop da ekti da u MLA ka Jowai katwa cha kiwa rem won da ekti da u CEM ka JHADC.