Rahnaam ki le ngut na jylla ha ka lympung Jeet Kune Do ha Bangladesh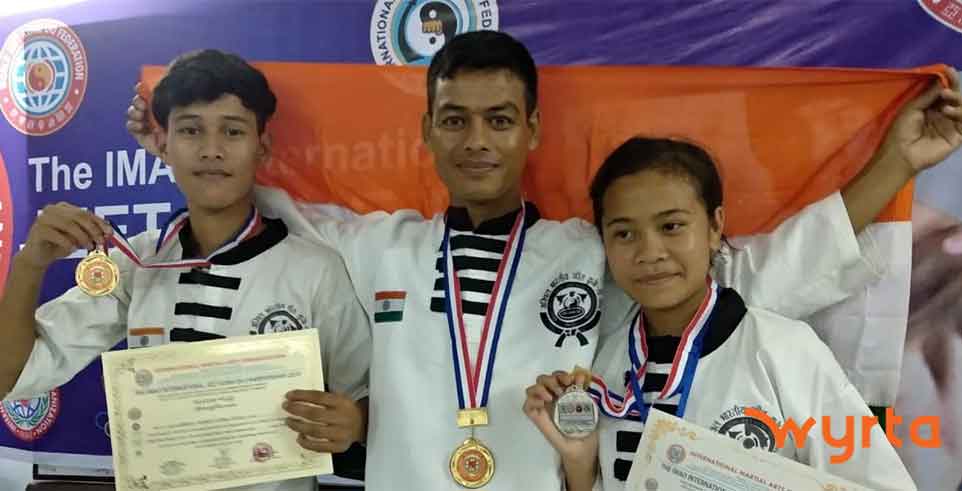 Advertisement
---
Jowai: Sa chisien man ko kawa sñiaw sarong ya ka Meghalaya Jeet Kune Do Assocation wa ka jylla kamjooh ka ri hi waroh kawi wa da wanrah naam biang ki le ngut kiwa yalehke ya ka kiwa kynthup ya u Francis Ricardo Ranee Songthiang, Ferdinand Suchiang waka Ribhalin Marbaniang. 
Kini ki le ngut hapoh i yahkhmat u Donny Ranee wa u Gemansingh Warjri da mih ki na ri chirup wa kiwi ki dkhot na kylleiñ ka ri India wow chimbynta ha ka lympung wa nyngkong wa pynman da ka Indo-Bangladesh wa tip kam ka International Jeet Kune Do Championship 2019 kawa da pynman nadooh ka 27 hadooh 30 tarik uni u bnai ha Alhaj Mokbul Hossain University College, Dhaka, Bangladesh wa da pynman da ka International Martial Arts Organization Member of United Nations (DESA), ka International Federation of Physical Education, FIEP- Slovakia (Recognized By: IPC), ka International Council of Sports Science and Physical Education, ICSSPE- Germany (Recognized By IOC), Bangladesh Martial Art Confederation (Recognized By: Sports Ministry & National Sports Council).
Ha kani ka lympung ki 3 ngut ki khloor ka ri na Meghalaya ryngkat na Manipur, West Bangla wa na Delhi da jop ki boon tylli ki takma ksiar wa takma rupa.
Na Meghalaya u Francis Ricardo Ranee Songthiang uwa na Laitkor Kynton-u-Mon, Mawrie Lum Heh, uwa puræ Class XII ha Shillong College dh jop u ya ka takma ksiar ha ka 57kg Weigh Category FC, u Ferdinan Suchiang uwa na Dongmihsngi, Ladthadlaboh,West Jaiñtia uwa kreh ha ka Civil Defence and Home Guards kam u Bandsman da yoh u ya ka takma ksiar ha ka Jeet Kune Do Form Competition, katwa ka Ribhalin Marbaniang kawa na Lumparing wei kawa dang puræ Class VIII ha Dainty Buds School da yoh ko ya ka takma rupa ha ka -45kg Weigh Category LC.
Kani man ko katkam ka wyrta wa pynlait da u DR Ranee uwa da seiñ ya ka ka Jeet Kune Do uwa man leh kam u General Secretary ka MJKA, wei kam u Vice President ka All India Jeet Kune Do Federation.