Rahnaam u khynroo na Jalaphet Sutnga ya ka jylla ha ka yakob MMA ha Guwahati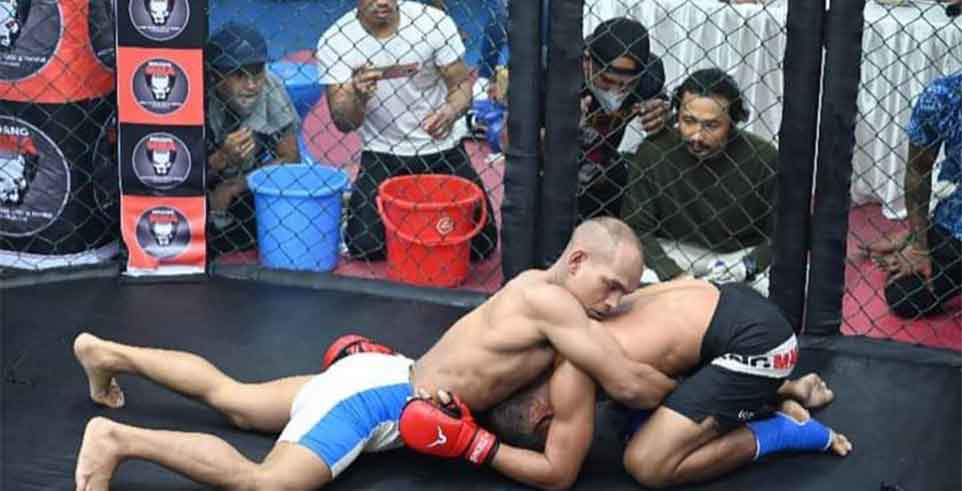 Advertisement
---
U Pynshngain Bareh uwa na Jalaphet Sutnga uwa yalehke na ka liang ka Club Ferdy School of Martial Arts and The Revolution MMA da jop u ya ka yakhun Mixed Martial Arts wa da pynman ha Guwahati wa pynman da ka Bidang MMA and Fitness Gym ha ka 13 tarik uni u bnai. 
Ya ini i jop toh ha ka Flyweight Category 57kg.
U Pynshngain da pynrem u ya u John Darlong na ka Club Bidang MMA Guwahati ha ka Second Round da i buid paanmaap namo da ka Submission Arm Bar.
Kam wow pynkynmoo, kani ka Club da jop teiñ ko ha ki yalehke Mixed Martial Arts ha ki snem wa dadep ha u snem 2019.
U Kisan Bareh da jop u ya ka Mixed Martial Arts 2019 wa da pynman da ka Ground and Pound Nongpoh ha District Library Nongpoh deiwa pynrem ya u Inamul na ka Club Dastbi MMA Guwahati ha ka First Round ha ka kyrdan 62kg Bantam Weight. 
Sa uwi u Sumarlang Marwei da jop u ha ka yakura K-1 wa da pynman da ka Dastbi MMA Guwahati 2019 ha SAI Stadium, Platan Bazar.
Ka Club FSOMA and The Revolution MMA da ekhublei wei da kitbok kitrwaing ko leh ya kini ki khloor yalehke.