Sdang ka lympung yalehke Football ka Wahiajer Sport Club, hapyrdi ka MLP wa XI Mawryngkneng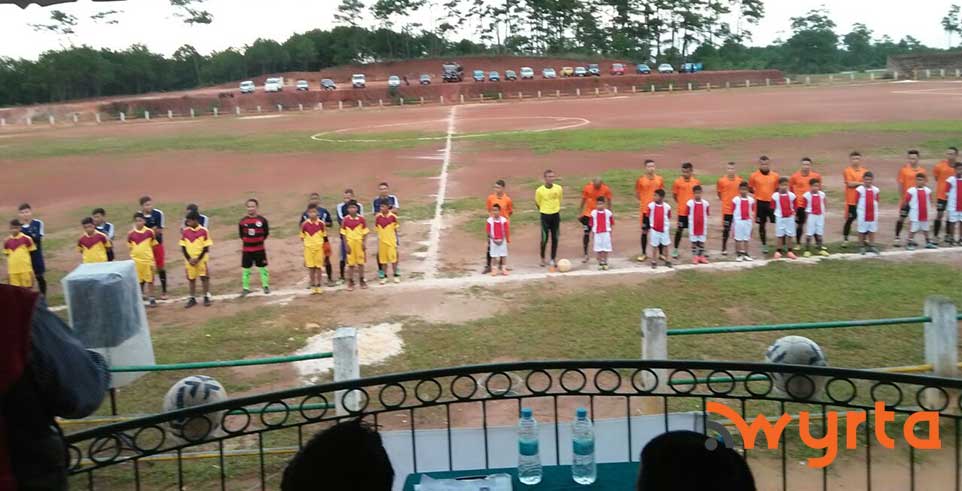 Advertisement
---
Jowai: Ynne ka sngi da sdang ya ka lympung yalehke Football wa tip kam ka 4th Open To All Knock Out Football Tournament wa pynman da ka Wahiajer Sport Club ha Stadium Wahiajer, West Jaiñtia Hills.
Ha kani ka sngi sdang da yaleh hapyrdi ka MLP Football Team wa ka United XI Mawryngkneng heiwa ka MLP da jop ko da 5-1.
Ya kini ki kool ka MLP da thap da u Ferdinand Shadap uwa da thap chi kool, u Niwan O Gatphoh wa u Tyngshain Rani kiwa da thap mar ar kool katwa ya ka kool ka United XI Mawryngkneng da thap da u Toni Suting.
Ha kani ka sngi sdang ya ka lympung da wan wai ya ka da u S. Laloo, heiwa da emlang kiwa kitkaam ka Wahiajer Sports Club wa kiwi tawon ki waheh. Ya ka naam Man of the Match ha kani ka sngi sdang da yoh da u Niwan o Gatphoh uwa yalehke na ka MLP.
Ka yaleh wa ar u man ko haka 19 tarik uni u bnai hapyrdi ka Larnai Sport Club pyrchah ya ka Iaityllilang Sport Club heipor 2:00 waje i sngi.