Sdang ka 'Operation Sankalp' yong ka Indian Navy ha Gulf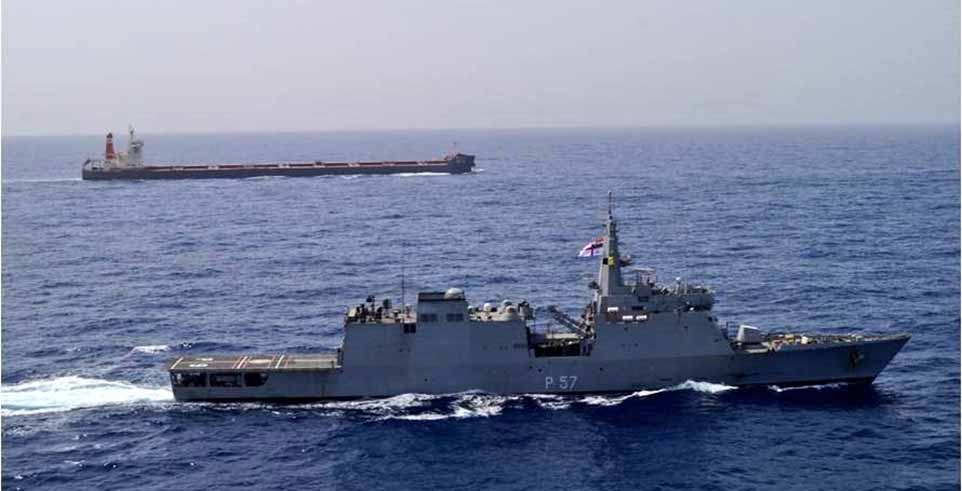 Jowai: Ki ri ha ka thaaiñ Gulf da chong syir ki neidaw wa mih i awri hapyrdi ka ri Iran, Saudi Arabia wa America wa kiwi kiwi heiwa da chah tympdung bom leh ki jhad wa lai luti na Persian Gulf wa Gulf of Oman wei khaamtam hadien wa chah siat kawi ka lieñsuiñ Drone yong ka America ha ka Iran. 
Ynnin ka Indian Navy da sdang ko ya ka 'Operation Sankalp' deiwa phah ya ar tylli ki jhad yaapam wa kynthup ya ka INS Chennai wa ka INS Sunayna cha Gulf of Oman wow sonteri ya ki jhad yong ka ri India kiwa lai luti na kani ka duriaw. 
Ka Information Fusion Centre–Indian Ocean Region (IFC–IOR) kawa da sdang nadooh u Kmaichonglad 2018 ha Gurugraam leh da pynkrehkaam ya ka wow booddien ko yei lai i wan ki jhad ha kani ka thaw. 
U DG Shipping da pynmih hukum u ha ka 13 wa 16 tarik uni u bnai ya ki jhad na ka ri wa lai luti na Strait of Hormuz wa Persian/Arabian Gulf wow thooh laad ki wow syndong hawa lai luti ki na kini ki duriaw.