Sdang ka Shillong Times yei lehkmen Platinum Jubilee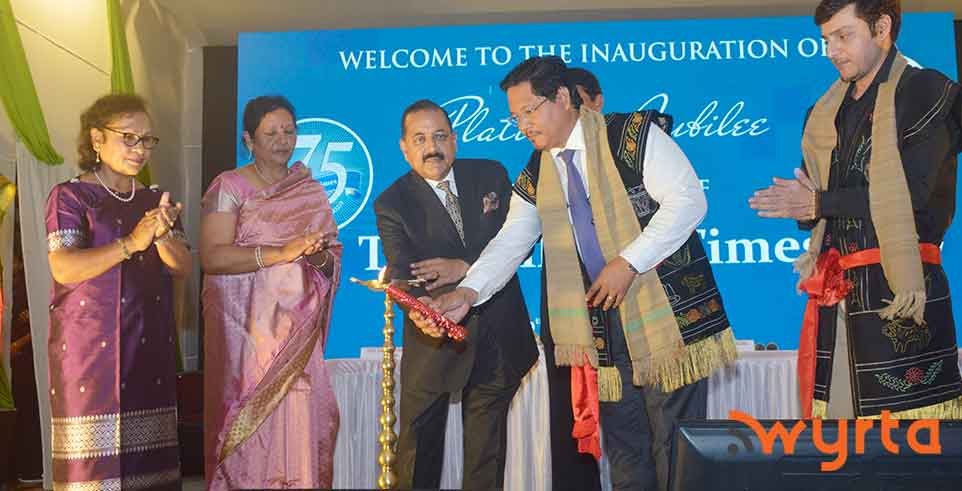 Shillong: U montri rangbah ka jylla u Conrad K Sangma, ynne ka sngi da lai embynta lang u haka lehkmen Platinum Jubilee ka The Shillong Times ha ka yalang wa da pynman ha u Soso Tham Auditorium.
U Conrad hei klam yong oo da e khublei u yaka Shillong Times wa da poi ko cha u moomer Platinum Jubilee deiwa ong wa kani ka kotkhubor da em ko neibynta ki paidbah kani ka thaaiñ la 75 tylli ki snem. Da e khublei u leh ya waroh kiwa da klam chwa ya oo deiwa ong, "Nga yoh mynsien O manda yoo ya ki khynroo wa khylIood wa klam ki na mynsien wei nga leh jooh ong O ya ki wa toh u em i diñ hapoh yong ki wei ynne ka sngi hadien wa yoh u ap ya kiwa boon kiwa klam wa stat nga leh da yoh mynsien O."
Da ong u leh wa ha kini ki por wa waroh pyrkhat ki du yei yong samen wei da mylliñ yei emkaam i imlang, toh u sñiawthooh leh wow leh ya ki kaam wei wow chim ya i kitkhlieh yow wanrah yei kylla iwa sdang na i samen. "Lada kawi pa kawi ka manyung pynlut ki wow pyllang ya ka um slap, lada sdang ki wow dam u pyntaroi, du na kam kini donhi ki kaam wa daw yoo i yei kylla. To u chim i kani ka laad wow sdang na i samen wow pnytip cha kiwi yow man ko kam ka yakhih haka imlang sahlang ki wow piat ya i khooid i jngiar hadooh wow pynim ya ki um ki wah," da ong Conrad.
Da pyntip chooh chooh u leh wa ka chnat Urban Affairs daw wanrah ko ya ki By Laws wa thymme yow pyntikna wa ki Building By Laws u man ki leh kiwa pynneh pynsah ya ka rymaw.
Da emlang leh ha kani ka sngi kam u Guest of Honour, u Dr. Jitendra Singh, Minister of State for the Ministry of Development of North Eastern Region and Minister of State for Prime Minister's Office; Personnel, Public Grievances and Pensions; Department of Atomic Energy and Department of Space.