Sdang ki ar tylli ki lympung yalehke Kickboxing ha Ri Bhoi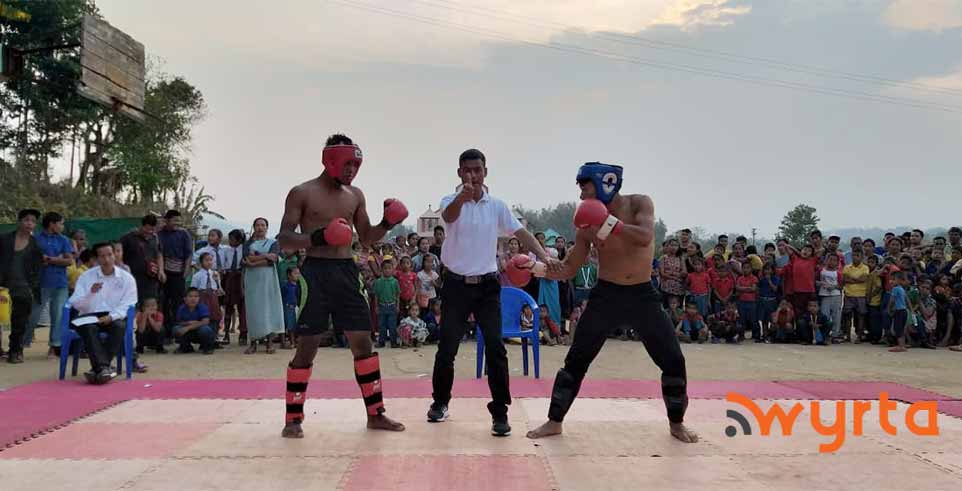 Advertisement
---
Nongpoh: Ki lympung yalehke Kickboxing ha Ri Bhoi District wa tip kam ka 6th District Level Kickboxing Championship wa ka 1st Professional Fight Kickboxing wa pynman da ka Kickboxing Association of Ri Bhoi District da sdang ko ynne ka 22 tarik wei daw pynkut ya ka mynstep ka 23 tarik. 
Ya kani ki lympung da pynman ha Umkon Nongtluh wei kani ka seiñ wa pynman ya ka toh kawa em hapoh ka Meghalaya Association Kickboxing Organized (MAKO) heiwa da wan chimbynya da kiwa yalehke na kylleiñ ka District. 
Advertisement
---
Ya kani ka lympung da wan wai da u V.D. Sangahiwot Rymbai, uwa man kam u Dy. SP (HQR), Ri-Bhoi, Nongpoh. 
U Sangahiwot hawa e yei klam da kyrkhu wei da kitbok kitrwiang u ya ka seiñ kawa da pynman ya kani ka lympung. Da yoh leh yei klam sneiñ kyntu na ki dkhot ka Meghalaya School of Martial Arts kam na u Ferdinand Suchiang. 
Ya kani  ka lympung da pynman hapoh i yahkhmat u Thomas Rangthaluh uwa man u President yong kani ka Association.
Ha kani ka sngi da emlang ki rangbah shnong wa kiwi kiwi kiwa kitkaam ka chnong wa ki dkhot ka MAKO.
Advertisement