Students donate blood during awareness camp at Ampati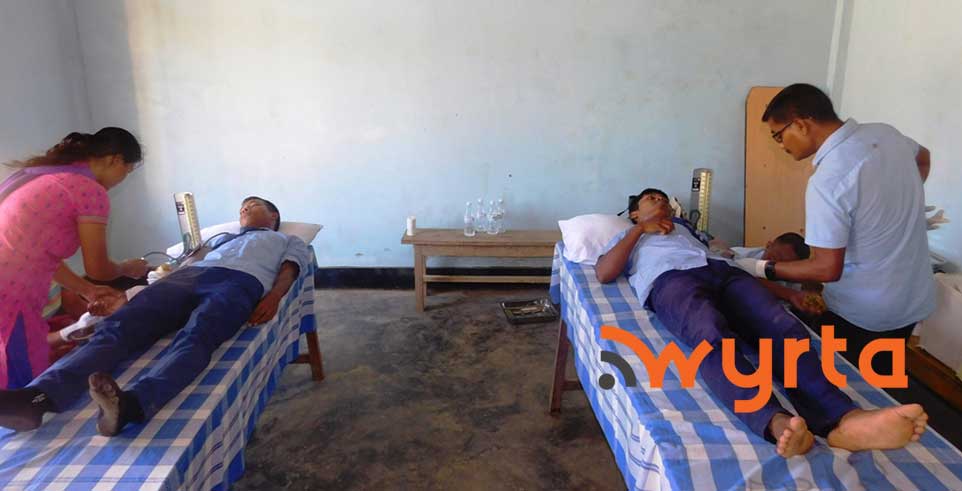 Advertisement
---
Advertisement
---
Ampati: The Health and Family Welfare department on Thursday organized an awareness camp on Tuberculosis, HIV and voluntary blood donation at Ampati government higher secondary school, Ampati. The objective of the awareness camp was to create awareness on the cause and prevention of TB and HIV as well as the importance of voluntary blood donation by eligible donors.
Medical experts from Tura were the resource persons for the day. They also conducted the voluntary blood donation drive at the venue.
During the awareness camp South West Garo Hills District Medical and Health Officer Dr Kona Sangma lamented the fact that the districts blood storage units' were not functional. She stated that though blood storage units could be installed at the Ampati CHC, the dearth of technical experts like laboratory technicians etc would make it impossible to run a fully operational blood bank. She however informed that the Ampati Civil Hospital would soon be operational and that patients in need of blood transfusion would not need to go to Tura anymore.
Speaking on blood donation and blood bank Senior Medical & Health Officer in charge Tura Blood Bank Dr S Marak dispelled misconceptions and myths on blood donation. She also urged eligible students to voluntarily donate blood without fear.
Later Medical Officer in charge Ampati CHC Dr Lydia spoke on Tuberculosis and HIV.
Among others who spoke at the occasion were Dr T G Momin and the headmaster of Ampati government higher secondary school.
A blood donation drive was also held after the awareness camp during which the eligible students of the school donated blood.