Swachh Bharat Abhiyan anniversary observed in Shillong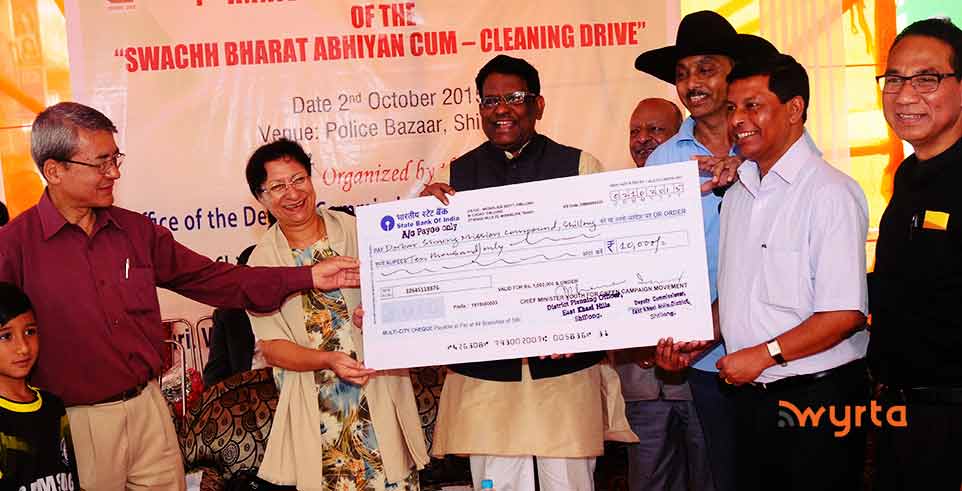 Shillong: On the occasion of Gandhi Jayanti, a programme together with a cleaning drive was organized by the Office of the Deputy Commissioner, East Khasi Hills District to observe the 1stAnniversary of the launch of Swachh Bharat Abhiyan at Police Bazaar, Shillong on 2nd October, 2015. Meghalaya Governor, Shri V. Shanmuganathan graced the occasion as Chief Guest.
Speaking on the occasion, Meghalaya Governor, V. Shanmuganathan said that Gandhiji had a vision, that of making India the cleanest country. "We should bring about a practical shape to those visions and make it into reality; let us all come out and clean Shillong, let us clean Meghalaya and let's make Meghalaya the cleanest State in the country", he added.
Meghalaya Home Minister, Roshan Warjri in her address said that everyone should imbibe the spirit of non-violence and take on the initiative of spreading the message of peace and unity to the fellow citizens. "Cleaning should not only be done on certain occasions but it has to be done every day as part of daily exercise" she added.
Meghalaya Chief Secretary, Shri P. B. O. Warjri said that one must not always expect sweepers to do the job, we as citizens should also take up the initiative of keeping our surroundings clean; that's the purpose of the Clean Campaign, he added.
the Headman of Police Bazaar,  S. L. Singhania and Deputy Commissioner, East Khasi Hills District, Shillong, P. S. Dkhar also spoke on the occasion. Additional Chief Secretary, K. S. Kropha, Principal Secretary to the Governor of Meghalaya, M. S. Rao and Principal Secretary, R. V. Suchiang were among others present during the programme.
During the programme, the Chief Guest and other dignitaries placed the garland on the photo of Mahatma Gandhi followed by a floral tribute to the Father of the Nation.
Later on, Meghalaya Governor, Shri V. Shanmuganathan administered the Swachhta Pledge and gave away the citations and cash awards to the cleanest localities of Shillong.
Thereafter the Chief Guest along with other dignitaries started the cleaning drive around the Police Bazaar area. (MIPR)