T. 20 lak samen ye u kyrtong wow pynlut ha ka kaam yalap Election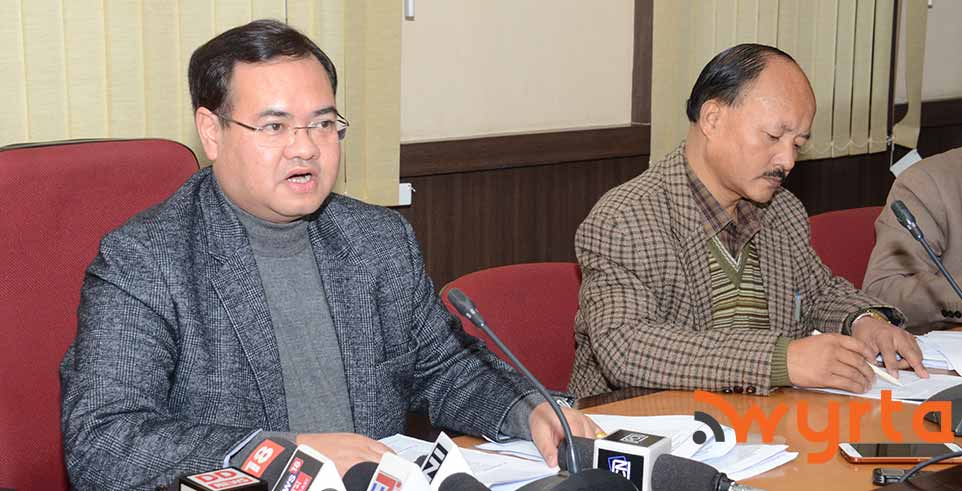 Shillong: U Chief Electoral Officer, Meghalaya, u F.R. Kharkongor ynne hawa yaklam wa kiwa pathai khubor ha Conference Hall, Meghalaya Main Secretariat, Shillong da pyntip u wa ka Model Code of Conduct (MCC) da krehkaam ko nadooh ynne ka sngi.
Kani ka MCC u krehkaam ko ha waroh kawi ka jylla Meghalaya wei u krehkaam ko ya waroh ki kyrtong, ki seiñ saiñ hima wa ka sorkar jylla.
Daw krehkaam ko leh ya ka sorkar pyrdi hei yatoh wa i pynbna ya ki scheme krehkaam wa kiwi kiwi ki kaam pynroi hei yatoh wa ka jylla Meghalaya.
Hei yatoh won wa ka poisa wa ye ki kyrtong u pynlut da ong u wa uwi pa uwi u kyrtong ye u wow pynlut ha kawi ka Assembly Constituency toh hadooh T. 20 lak samen wei emkaam wow e ya ka bui namo ka Accounts of Expenditure hapoh 30 sngi nadooh ka sngi wa ñiaw vote.
Da pyntip u wa ka Webcasting u pynemkaam nyngkong dooh ya ka hapoh ka jylla Meghalaya hapoh ki 193 tylli ki Polling Stations wow pait LIVE ya i pynlai ya ka Election.
U em leh 60 tylli ki All Women Managed Polling Station, kawi ha kawi pa kawi ka Constituency ka wow em du ki kynthai kiwa pynlai ya ka Election wa ki pulit kynthai.
Ya ki VVPAT u pynemkaam ha waroh ki Polling Station ha ka jylla.
Chooh chooh da pyntip u wa na ki 3082 tylli ki Polling Station, 2025 toh kiwa man kam ki Normal Polling Station, 536 tylli kam ki Vulnerable, 454 kam ki Critical wa 67 tylli kam ki Vulnerable wa Critical.
Da pyntip u leh wa em hadooh 21 hajar ngut ki bru ki wow embynta ha ka Election kam ki Polling Official ha waroh kawi ka jylla.