Wai u Boston Marak ya ka Handicraft Exhibition ha Asanangre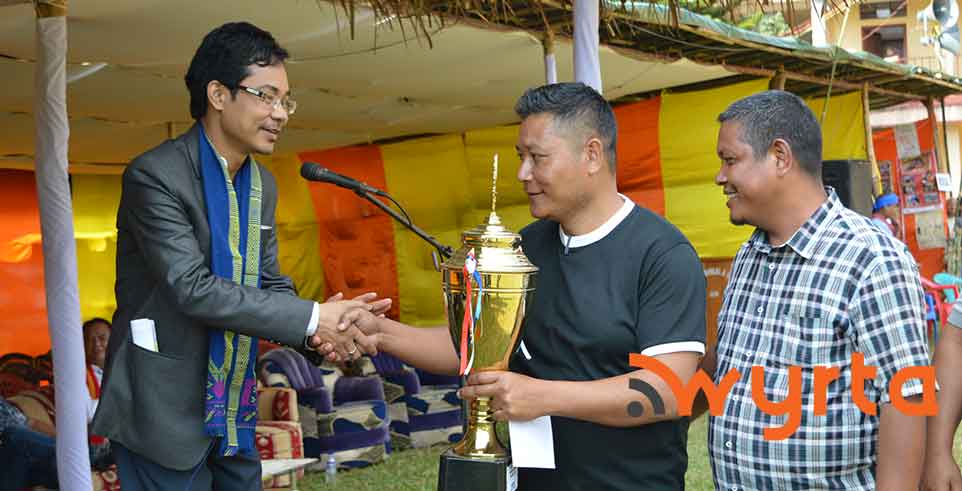 Advertisement
---
Shillong: U Chief Executive Member ka Garo Hills Autonomous District Council (GHADC), u Boston Marak ynne da wai u ya ka Handicraft Exhibition kawa pynman da ka District Commerce and Industries Centre, Tura chirrup wa ka Gaj Yatra ka Wildlife Trust of India ha madan wa pynman ya ka 100 Drums Wangala Festival and Cultural Extravaganza ha Asanangre.
U Boston Marak hei klam da ong u wa ya ki bru da tipmit ya ka jaitbru yong ki da ki rukom im man ka sngi, ka rukom riam, wa kiwi kiwi kiwa da yah da ki warim wajah. Da ong u leh wa na i rukom im da yah ya ki bru wow im dei miat hapoh ka imlang sahlang.
Da ong u leh wa i rukom im ym neh i kamjooh tangwa kylla i kat dang lai ki por, tangwa emkaam wow kyntait wei wow yait na ki kaam kiwa sih kiwa ktah ya ka imlang sahlang.
Ka Gaj Yatra won toh ka thong neibynta wow yada ya ki hati khloo ya kawa da yaleh chirrup wa ka Ministry of Environment, Forests and Climate Change (MoEFCC). Kani ka Yatra da lai luti lyngba ki sarok heiwa da pynyoo ya ki rukom im ki jaitbru waphær waphær ha kylleiñ ka ri, deiwa lai lyngba 12 tylli ki jylla (4000 tylli ki chnong) kiwa em kini ki hati khloo.
Kani ka Yatra daw kut ko ha Delhi ha u Naisaphra 2018 deiwa lai luti kamwa 11,000 KM kylleiñ ka ri.
Ha kani ka sngi u Marak da saam u leh ya ki khusnaam cha kiwa jop ha ki yalehke tynre ki waphær waphær yong ki jaitbru Garo.
Ha kani ka sngi da emlang u Chairperson, GHADC, u Sadhiarani M Sangma, Deputy CEM, GHADC, u Winnison Marak, Executive Member, Land and Revenue, GHADC u Jinberth Marak, Chairman, Planning Commission, GHADC, u Stevie Marak wa kiwi kiwi.