Wai u Conrad ya ki thaw sumaar wa ha rukom ha Tura Civil Hospital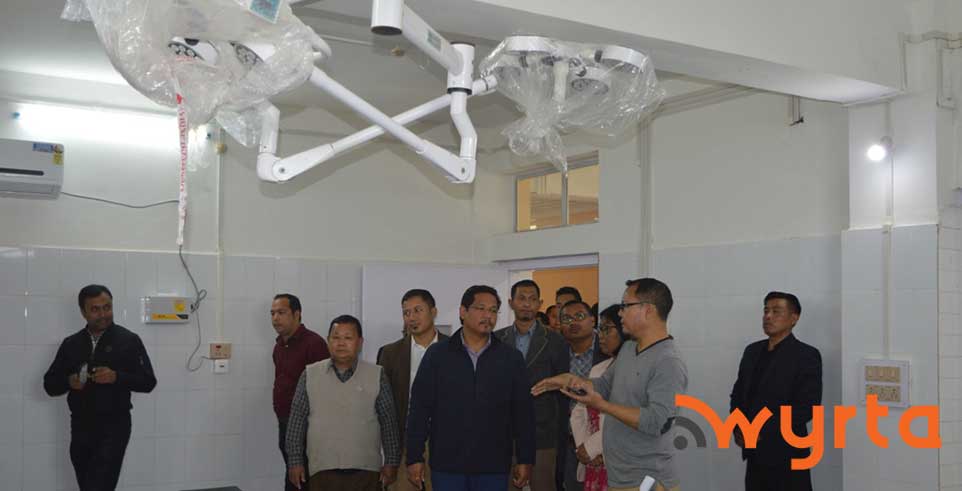 Advertisement
---
Tura: U Montri rangbah ka jylla, u Conrad K Sangma ynne da wai u ya ka thaw leh CT Scan, Up gradation of Clinical Laboratory wa ka Orthopedic Operation Theatre wa ka New Eye Operation Theatre kamjooh ka Ward Complex ha Tura Civil Hospital, Tura.
Hawa e yei klam u Conrad da pynsñiaw u yei emkaam ki Social Sector deiwa ong wa ki thaw sumaar (Health Care Services) toh kawa kongsan tam wei kawon kawon ka sorkar toh u pyntikna ki wa ki bru yoh ki yei sumaar wa paka deiwa kyntu ya kiwa sumaar wow em ki i bahkhlieh wow e yei sumaar wa paka cha ki paidbah.
Da ong u wa ym man i iwa suk ya kiwa chah sumaar wow lai phah sumaar ki cha jngai deiwa pynrap wa kattu daw pynkylla noh yei rukom chah sumaar hapoh ka thaaiñ. Hajrong wow pynjanai ya ka Megha Health Insurance Scheme ya kawa da pynku na ka T.  2.8 lak cha ka T. 5 lak heiwa da booh thong wow kdup ya ki 8 lak tylli ki manyung.
Chooh chooh da pyntip u wa ka sorkar dang pynkhreh ko wow booh ya ka kor Dialysis Machine ha Tura ka wow yarap ya kiwa chah sumaar ki wym ye wow lai cha jngai.
Hawa e ya ki kyntien pdiang burom u Additional Director of Health Services (MI), Meghalaya, Dr. A War da ong u wa kini ki rukom sumaar wa thymme ha Tura Civil Hospital toh kiwa da angnood ka sorkar wow e sñiawbha ya ki paidbah ka ri-loom Garo ki wym haap lai de cha Guwahati næ Goalpara du wow leh ya ki C T Scan.
Chooh chooh u Dr. War da pyntip u wa T, 3.25 klur da man wow booh ya ka C T Scan ha u snem 2017- 2018 deiwa pynrap wa daw pynkrehkaam noh ya ka wei da phah hikai leh u bru wow pynkrehkaam ya kani ka kor. Chooh chooh T. 4.95 klur da bhah wow pynku kyrdan ya ka Clinical Laboratory ka wow ye wow leh ya ka Pathology, Microbiology, Hematology khlem chah pynthut ha ki bor bordiñ (Power Backup).
Da pyntip u leh wa ka Blindness Control Society da e ko T. 75 lak neibynta ka Eye Operation Theatre wa ka Eye Ward hei yakrehlang chirup wa ka District Blindness Control Society, Tura.
Kiwi kiwa da e yei klam ha kani ka sngi toh u Deputy Commissioner, West Garo Hills, u Ram Singh, Superintendent, Tura Civil Hospital, ka Dr. Menakshi A Sangma wa u Reverend, Goanang Baptist Church katwa Greaterburn R Marak da e u ki kyntien ngoohblai.
Ha kani ka sngi da emlang u MLA ka Dalu Constituency uwa man leh u Chairman ka MMDC, u Brening Sangma, Chairman, Tura Municipal Board, J D Sangma, President Nokma Council, Tura S G Momin, District Health wa kiwi kiwi.