Wai u Lat ka jylla ya ki Solar Street Light ha Kongthong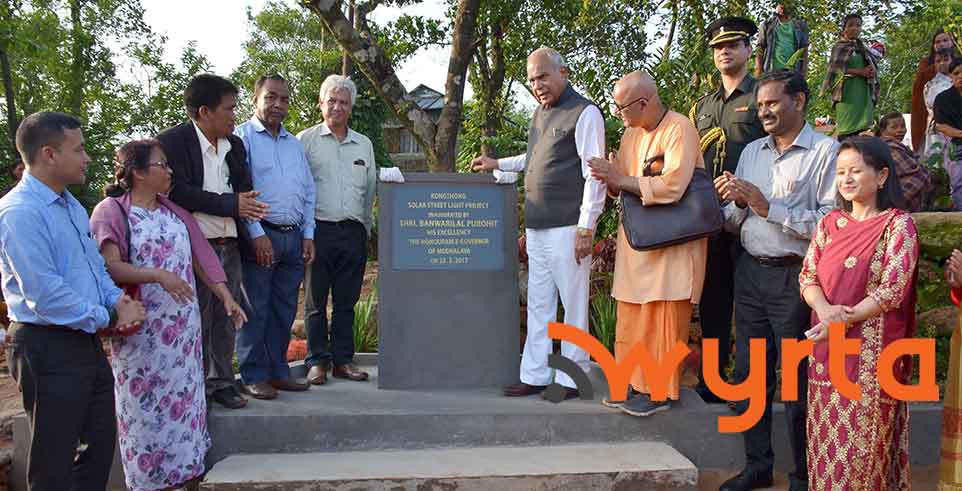 Shillong: U lat ka jylla Meghalaya u Banwarilal Purohit ynnin da wai u ya ki Solar Street Lights Project ha Kongthong, Khadarshnong, Laitkroh C&RD Block, East Khasi Hills District.
Hei klam kam u kongsan, u Purohit da ong u wa ka jylla Meghalaya chirrup wei man ko ka thaw kawa wa miat ki loom ki wah, i bneiñ wa miat, toh kawa ye bha u riñ ya kiwa uiñke sawari cha ka jylla. Neiliang yong oo da e khublei u ya ki paidbah wada ye ki u ksoh wei wow pynneh yeiwa da yah da ki warim ya ki.
Kani ka Solar Street Lighting Project ha Kongthong da e yarap poisa na ka Governor's Secretariat wei da pynkrehkaam ya ka da ka State Institute of Rural Development (SIRD), Government of Meghalaya. Kini ki Street Light toh kiwa pynemkaam da ki LED wei i dor yong kini ki 20 tylli kini ki chrot light da poi i hadooh T.4.5 lak.
Ha kani ka yalang da em leh u K. N. Kumar, Principal Secretary to the Governor, ka E. Warjri, BDO, Khadarshnong Laitkroh C&RD Block, u N. Hajong, EAC, u B. S. Rummnong, Deputy Director, SIRD, u K. Majaw, Sordar, Raid Kongthong, wa kiwi kiwi.