Ya phyllu yumut ka MSLSA yei ktah ka khlam yei pyrkhat pyrdaiñ ki bru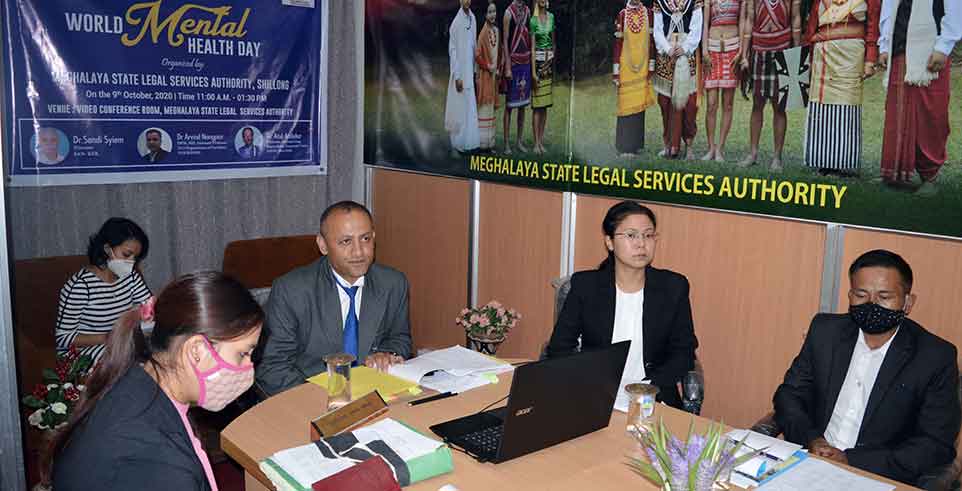 Kam chibynta wow chimkhia ya ki chitom ha i bor pyrkhat namo Mental Health Illness, khamtam nei em ka khlam COVID-19 iwa da ktah yei rukom im ki bru ha kylleiñ ka pyrthai, da pynman ya ka Webinar ha ka World Mental Health Day ynne ka sngi wei ya kani ka Webinar da pynman da ka Meghalaya State Legal Services Authority (MSLSA) ha ka Video Conferencing Room yong ka ha Shillong.
Ha kani ka yalang, u N.A. Khan, Member Secretary, Meghalaya State Legal Services Authority (MLSA) hawa e yei klam da pynkynmoo u yei emkaam wow tip ya ka aiñ Mental Health Care Act 2017. Hawa kdaw ya ki kyndon ka aiñ, u AN Khan da pyntip u wa ka thong yong ka toh wow lait u pynchitom (Decriminalising) ya ka 'Attempt to Commit Suicide' namo i pyrchang ki bru wow pyntkut yabor yei mynsien yong ki hi khnang wow yoh yarap ki na ka sorkar.
Advertisement
---
Da pyntip u leh wa kani ka aiñ thmu ko wow yarap ya ki bru wa chitom hei bor pyrkhat wei wow yada ya ki kamjooh leh wow yoh yarap ki hei sumaar khlem chah yoobeiñ.
Ki bru chemphang ha kani ka sngi kiwa da e yei klam toh u Dr. Arvind Nongpuir, Assistant Professor & HOD i/c NEIGRIHMS uwa da klam hajrong i ktah u COVID-19 yei bor pyrkhat, wei da yoh leh i klam na u Dr. Atul Ambekar, Professor, National Drug Dependence Treatment Centre (NDDTC), AIIMS, New Delhi uwa da klam hajrong ka phang wa yatoh wa i rukom pyrkhat ki paidbah neidaw i kiad, i pynemkaaam drugs wa kiwi kiwi.
Ki bru kiwa chimbynta ha kani ka Webinar toh ki sahep ka Meghalaya Police, Social Welfare Department, Legal Care and Support Centre, ki Para Legal Volunteers, Panel Lawyers, MIMHANS wa District Legal Services Authorities.