Yoh ka FKJGP yaka chnat krehkaam wa pura ha East Jaiñtia Hills District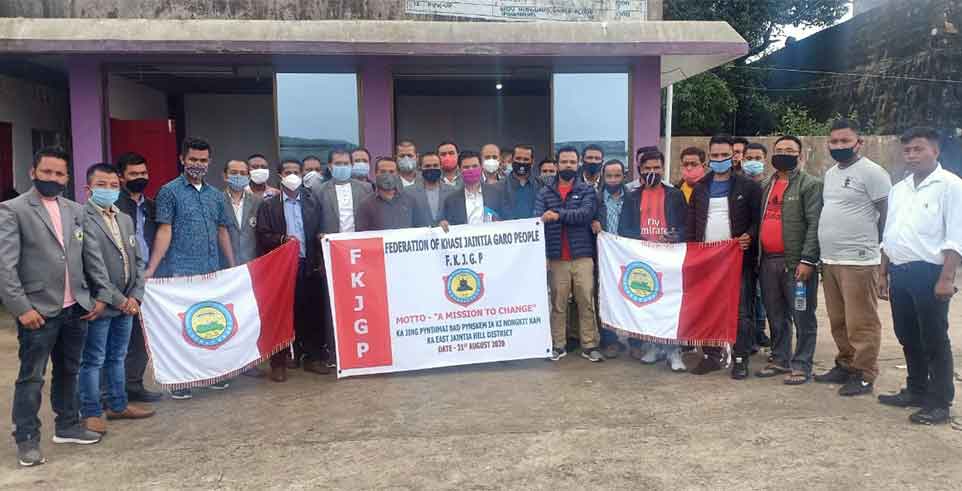 Advertisement
---
Ka Federation of Khasi Jaiñtia and Garo People (FKJGP) Jaiñtia Hills District da yoh ko wow pynkha yaka chnat krehkaam wa pura yong ka seiñ ha East Jaiñtia Hills District, ka wow tip noh kam ka FKJGP- East Jaintia Hills District, Khliehriat.
Da pynman yaka yalang ynnin ka sngi ka 31-08-2020 ha Eastside Inn Lad-Jalyiah By-Pass Lad Rymbai. Ya kani ka yalang da pynlai da u D.S. War, Chief Organising Secy. ka FKJGP Jaiñtia Hills. Ha kani ka sngi u General Secretary ka seiñbei u Dondy C Khongsit da pynbaam smai u ya kiwa kitkaam kani ka chnat wa thymme.
Ha kani ka sngi da emlang kiwa yahkhmat naka seiñbei wa kynthup ya u Kitboklang Nongphlang Chief Organising Secretary Cum In-charge FKJGP Jaiñtia Hills, u Bristar Mawthoh, Agriculture Secretary, u Poul Kharmawlong wa u Danny Nongrum. Da emlang leh kiwa yahkhmat ka FKJGP Jaiñtia Hills wa kynthup ya u Marhok Marboh, Vice-President, Riky Shylla, General Secretary.
Da sakhi lang ha kani ka sngi yei pynskem wa kitkaam yong kani ka chnat krehkaam yong ka FKJGP hapoh East Jaiñtia Hills da kiwa yahkhmat ka KSU kiwa kynthup ya u Cherity Suja General Secretary wa u Streamly Niangti Finance Secretary ka KSU Jaiñtia Hills Unit.
Hei klam yong u General Secretary u Dundee C. Khongsit da ban joor u ya kiwa kitkaam yong kani ka chnat wow man kiwa yaineh wot la yachem ki chiboon i eh neibhah chisien wa da em ki hapoh ka seiñ toh u kynmoo ki ym toh ka rynsan yalehke næ tamasa, toh ka rynsan wow yakhun neibynta ka yap ka im wow bahkhlieh neibynta ka jaitbru hi waroh kawi.
Ki dkhot kani ka FKJGP- East Jaintia Hills District, Khliehriat man ki kamni ha wah:
President- Merald Suting
Vice President – Welking Swer
General Secretary – Deihok Sumer
Asst, General Secretary – Johnlang Bamon
Organising Secretary – Philip Rymbai
Asst. Organising Secretary- Andiwor Pala
Information Secretary- Waster Sympli
Asst. Information Secretary- OP Nongtdu
Sport Secretary- Mathew Pajat
Asst. Sport Secretary- Hamkhia Siangshai
Education Secretary- Eladmi Suchen
Asst. Education Secretary- Prosperity Rymbai
Disciplinary Secretary- Baitmi Chyrmang
Asst. Disciplinary Secretary- Ampli Rupsi
Agriculture Secretary- Pynlumlang Ksoo
Asst. Agriculture Secretary- Omega Sumer
Chief Adviser- Alprins Dkhar
Legal Adviser-Advocate Cyprian Dkhar