Yoh ka SWKH yaka khusnam National Incentive Award for Poshan Abhiyaan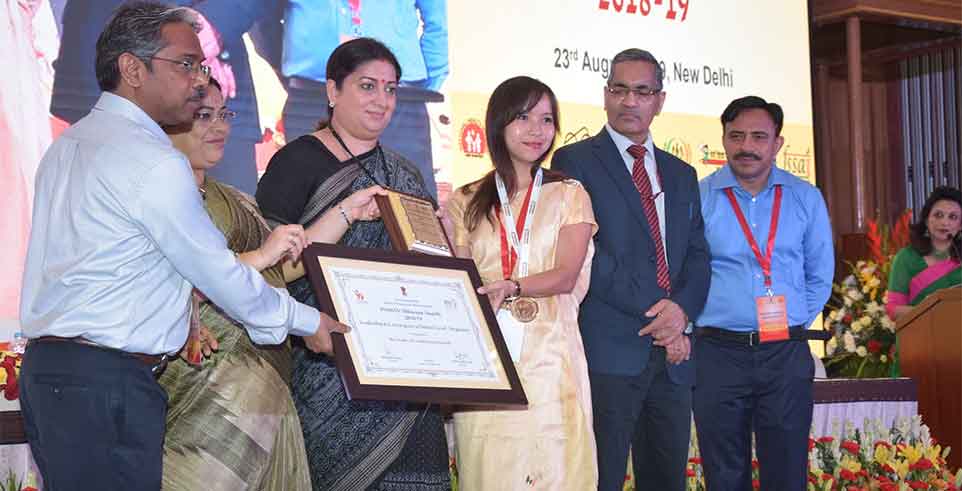 Advertisement
---
Jowai: Ka South West Khasi Hills da yoh ko yaka khusnam National Incentive Award for Poshan Abhiyaan haka kyrdan "District Level Leadership and Convergence" ha Delhi ynne ka 23 tarik.
Yaka khusnam da pdiang daka Deputy Commissioner, South West Khasi Hills, ka Isawanda Laloo, IAS naka Union Minister, Women & Child Development, ka Smriti Zubin Irani haka yalang wa pynman ha Delhi heiwa da saam leh ya kiwi ki khusnam Excellence Awards cha kiwi ki jylla ya iwa kreh chitom ki kiwa yoh yaka Poshan Abhiyaan Award ha ki jar jiar ki kyrdan.
Ka District Level Convergence and Leadership Award kawa da e cha ka SWKH toh wow tipmit yei krehlang kiwa boon ki chnat sorkar wa kynthup yaka Health, Education, PHE, C&RD, Agri & Horti, DPRO khamtam yei kreh chitom ka DPO ICDS waka CDPO.
Kani ka khusnam da man ko leh neibynta ki waroh kiwa da kreh chitom nadooh ki wakreh kam kam ki Anganwadi, ASHAs, ANMs, Helpers wa ki Supervisor kiwa pyntikna wow pynwiar ya i duna baam iwa ktah yei heh i san ki khynnah kamjooh ya ka chait ka khiah yong ki wei wow yoh ki leh ya i dawai tika nadooh ki khynnah kamjooh ki manbei wa punkhon.