Yoh sikai ki Nongthoh khubor na jylla ha New Delhi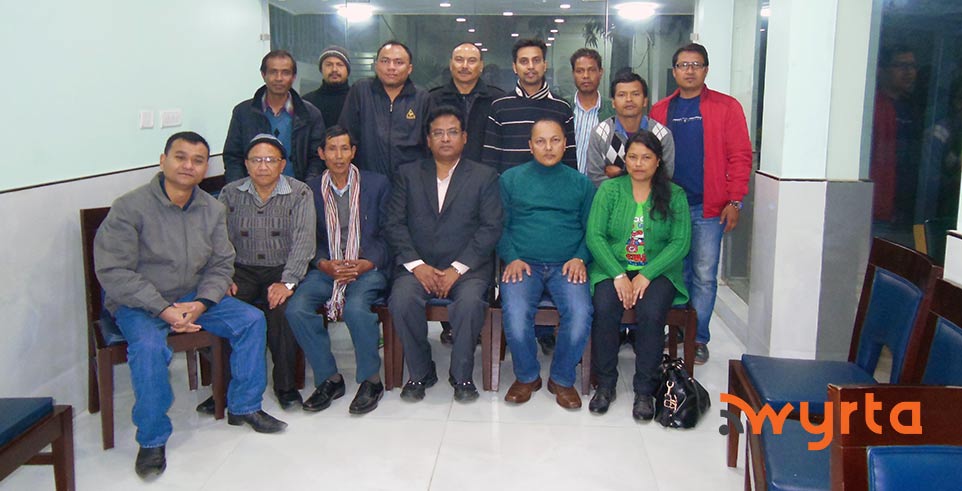 Jowai: Kamwa khynde ngut ki nongthoh khubor na ka Jylla Meghalaya wa kynthup ya ar ngut na Ri-loom Jaiñtia deilang wa ki nongthoh khubor na Assam, Manipur wa Tripura kiwa kynthup ya u ma John Wilson Thabah, Dimusing Khongjrem, Kyrmenlang Uriah, Chaphrang Passah, Markus M Thaiang, Harsh Jhunjhunwala, Raymond Kharmujai, Rining Lyngdoh, Melemon Sameer Sohliya, Francis Aibor Khongwar wa ka Rida Suchiang hapoh i yahkhmat yong u ma Lamkio Pde u P.A. yong u Speaker Meghalaya wa u bah Patrik Stevens Lyngdoh, Assistant Director Information and Public Relation Meghalaya Shillong, da yoh ki ya ka esikai wa le sngi hajrong ka phang "Familiarization Programme in Parliamnetary Processes and Procedures" kawa pynlai da ka Lok Sabha Secretariat Bureau of Parliamentary Studies and Training, New Delhi, kawa sdang nadooh ka 17 tarik hadooh ka 19 tarik uni u bnai. Da wai ya kani ka esikai da ka Sumitra Mahajan, Hon'ble Speaker Lok Sabha.
Ha kani ka training ki Nongthoh khubor da chah hikai ki hajrong ka phang, "The Role of Media as the Fourth Estate, Constructive Media, its Role in Strengthening Parliamentary Democracy, Parliamentary Questions and Procedural Devices to Raise Matters of Urgent Public Importance, Changing Dimensions of Electronic Media, Parliamentary Privileges, Parliamentary in the Indian Polity wa kiwi de ki phang.
Ha kani ka training wa le sngi da yoh yei klam ha ki phang wapher wapher da ka Sumitra Mahajan Hon'ble Speaker Lok Sabha, u D.P. Kamat Chairman Press Advisory Committee, u Dr. Vina Sahasrabudhe Director Generral R.M Prabodhini uwa man leh u Vice President ka BJP Central Committee, u Purno Agitok Sangma, u Kiren Rijiju, u S.S. Ahluwalia Hon'ble Chairperson Committee on Privilege Lok Sabha, u Raghunandan Sharma Honorary Advisor BPST wa na u Dr. D. Bhalla Secretary Lok Sabha.
Da ong wa ini i yohlad yong kini ki nongthoh khubor u yoh ya kam kani ka esikai da e myntoi ko chiboon bha ya ki hei rukom thoh khubor wa kiwi de ki phang nei bynta i bha i miat ka imlang sahlang hapyrdi para bru. Hei jooh i por da ong wa kini ki nongthoh khubor da yohlad ki u psiah hapoh yung dorbar Lok Sabha wei wow sniaw ya ki klam ki MP hapoh yung dorbar, da yoh ki leh u li pait li yoo ya ka kamra News Agency Room Parliament House & Media Centre, Parliament Library Building, Parliament Museum wa ka Parliament Library wa i lai pait ke ya ka Rashtrapati Bhavan wa Gandhi Smriti New Delhi.
Advertisement