Awareness on need of Solid Waste Management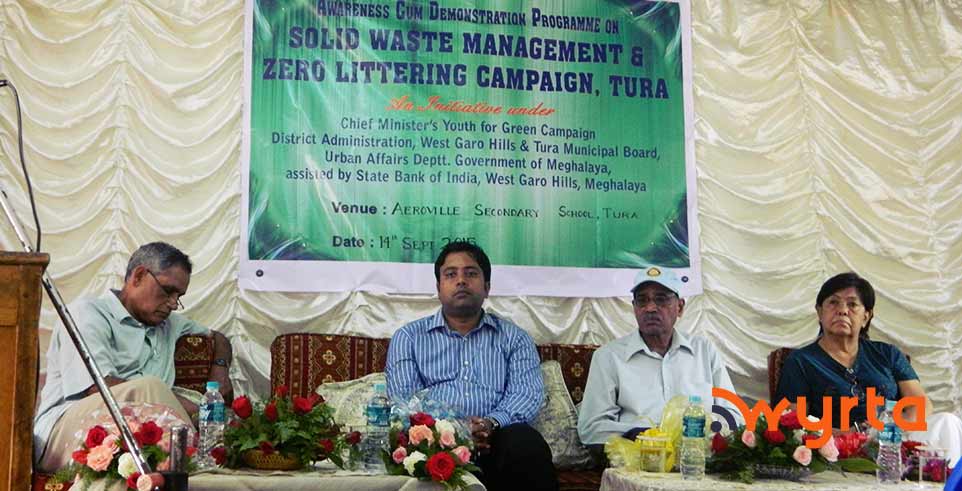 Tura: An Awareness/Demonstration programme on Solid Waste Management was held at Aeroville Secondary School, Tura, to address the urgent need to deal with increasing waste generated by many urban areas.
Pravin Bakshi DC of West Garo Hills stressed that these green initiatives should be treated with utmost importance to help improve the quality of our immediate surroundings which is affecting the condition of the air we breathe and our health. He  also pointed out the need for increasing the green cover of the region.  He added, that the green cover will help to de-stress and help recharge and motivate a person.
Bakshi also suggested the adoption of a green locality near school premises so that students can learn to care and protect the environment and become ambassadors of green mission initiatives created especially for school children.
J. Sangma, Chief Executive Officer, Tura Municipal Board emphasized on the importance of cleanliness as well as keeping our home, surrounding and the town clean and green. While urging the students to "Think Global and Act Local", he advised them to become the agents of change in the initiative of making Meghalaya Clean and Green by imbibing the sense of civic responsibility for the betterment of our future generation.
Sangma also informed that the Meghalaya Clean and Green Award have been introduced by the Chief Minister of Meghalaya in order to encourage and enable the localities to participate in the mission with competitive spirit for the benefit and welfare of the society. He further stressed on the need to give up easy going attitude with regard to disposal of waste and cooperate with the initiatives of the Tura Municipal Board for improving Solid Waste Management practices in the town to create a clean and healthy environment for its residents.
During the technical session that followed, Dr. A. A. Sangma Medical & Health Officer and Nodal Officer, Solid Waste Management, Tura Municipal Board sensitized the students on Solid Waste Management, Waste segregation and Zero Littering Campaign. Meanwhile,  Carmo Noronha, Executive Director, Bethany Society explained about Road to Zero Waste and household composting.
It may be mentioned that the basic principle of efficient Solid Waste Management practice is Reduce, Reuse and Recycle. Therefore, the waste can be reduced at the household level by segregating the non-biodegradable and biodegradable waste.
This awareness programme is part of the Chief Minister's Green Campaign organized by the District Administration of West Garo Hills, in collaboration with Tura Municipal Board (TMB), Urban Affairs Department, Government of Meghalaya and assisted by the State Bank of India, West Garo Hills.
Similar programme were held this evening at Upper Chandmary locality, Tura. Similar programme will also be held at Sherwood Secondary School, Tura and at Chitoktak and Akonggre locality on 15th September, 2015 and at Tura Public School and Bonepa Atilla locality on 16th September, 2015. (MIPR)