Book on Gorkhas in the freedom struggle of India released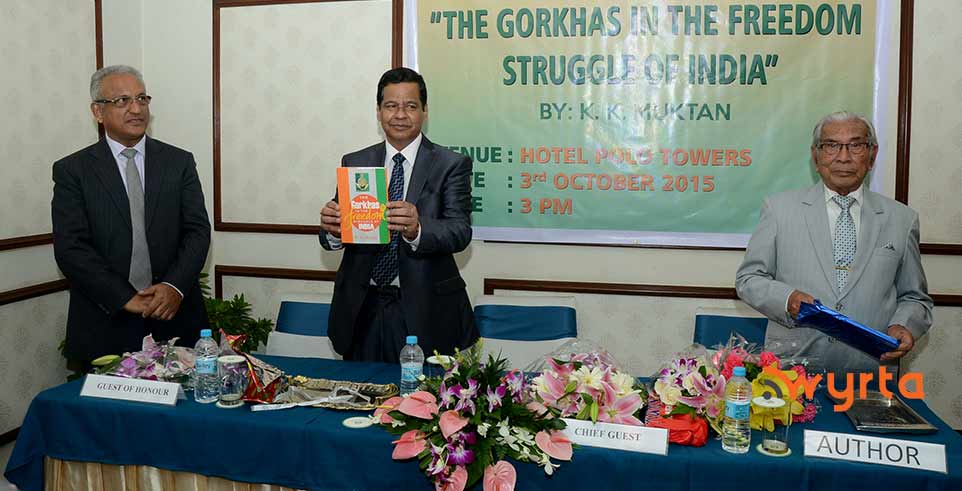 Shillong: Former Meghalaya Chief Secretary and Co-Chairman Meghalaya Resource and Employment Generation Council, W.M.S. Pariat today released the book titled, "The Gorkhas in the freedom struggle of India" written by retired bureaucrat,  K.K. Muktan at a function held at Hotel Polo Towers, Shillong in the presence of  Anil Pradhan, IPS (Retired), H. M. Shangpliang, Director I&PR, family members and well wishers.
Mr. Pariat in his speech congratulated the author who has brought out this book to highlight the contributions of the Gorkhas in the Indian national freedom struggle.
This book will be very useful to scholars and researchers and even to general readers who are not aware of the participation of the Gorkhas both in the military front and political field during the freedom struggle, added Mr. Pariat.
Speaking about his book Muktan narrated the unvarnished stories about the legendary Gorkha soldiers who joined the Indian National Army or the Azad Hind Fauj of Netaji Subhas Chandra Bose during the Second World War.
Recounting the part played by the Gorkhas in India's freedom struggle, Muktan said the Gorkhas in alliance with the Japanese, fought against the British army in the Arakan Hills and laid down their precious lives to liberate the country from the colonial rule.
He also said the Indian Gorkhas living mostly in Darjeeling, Calcutta, Benares, Dehradun and the North Eastern States played a big role in the freedom struggle under the leadership of Mahatma Gandhi. "The supreme sacrifice made by 22 young Gorkha jawans in the Kargil War of 1999 will go down in the history of liberation of Kashmir from Pakistan's occupation", Muktan added.