Chah pyndam yabor ka lehniam ka Raid Kongthong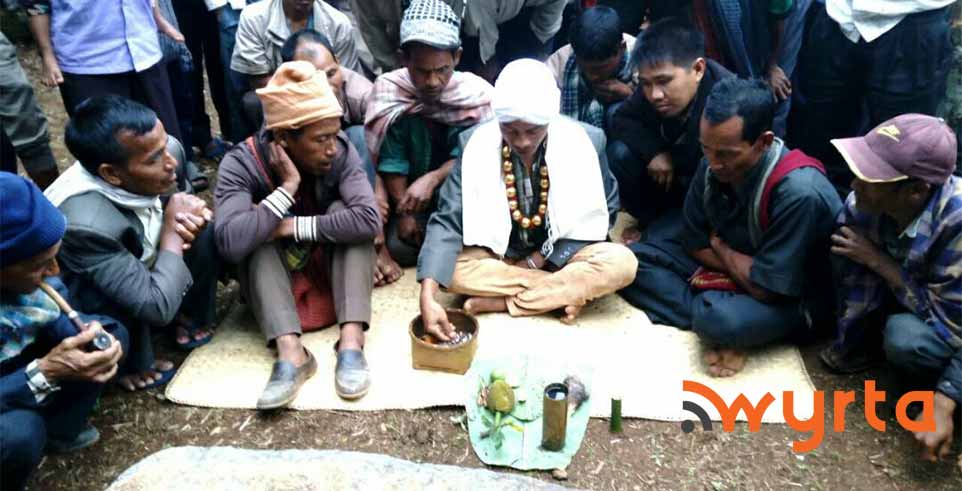 Jowai: Ka Raid Kongthong kawa em hapoh ka Sohra Civil Sub-Division haka 27 tarik u bnai wa da dep da thmu ko wow pyndep yaka leh niam, leh rukom, ka puja pukan da u Sordar ka Raid u Kanol Majaw ka wow pteiñ cha ka sngi wa bood da ka Chaad Ksiar Chaad Rupa kawa jooh leh ki chisein chi snem.
Tangwa katkam ka FIR wa e da u Tui Khongsit uwa chong chnong ka chnong Kongthong da ong wa haka 27-05-19 heipor kamwa 4:40 i janmiet heipor wa dang lehniam ki da wan ki heh kawi ka yungmane Christan wa yahkhmat da ki heh kani ka yungmane wa kynthup ya ki chynrang wa kynthai kiwa da tympra yaka thaw lehniam ki kawa tip kam ka Niang Pyrhai.
Haka FIR da ong wa ini i chah sangeh wow pyndep yaka lehniam da man ko pyrchah yaka riti synchaar ka ri (Constitution) kawa da e klaad ya ki bru wow bood ya kawon kawon ka niam.
Chooh chooh da ong wa kiwa pyrchah da wan ki deiwa rah ya ki tiar pynmynsoo kam ki tari wa kiwi kiwi wei da dung ki leh ya ki ksin wei ini da jia i hakhmat ki pulit waki Magistrate kiwa yeiñ te pait wei ym em leh ki iyi iyi leh.
Ha kani ka FIR da ong leh wa da riñ Video wei da chondur leh ya ini wa jia yow pynsakhiat wei ya kani ka FIR da phah leh cha ka yung krehkaam u Prime Minister, Ministry of Home Affairs, Director General of Police, Meghalaya, ka SP ka East Khasi Hills wa cha u Secretary, Home Affairs, Govt. of Meghalaya.
Also Read: Daw pynman ka Raid Kongthong ya ka leh niam wa chisien chisnem