Advertisement
---
Advertisement
---
---
Advertisement
---
Advertisement
Chah thngan kiwa sikai JACATAM wow dawa pynku tulop 100 %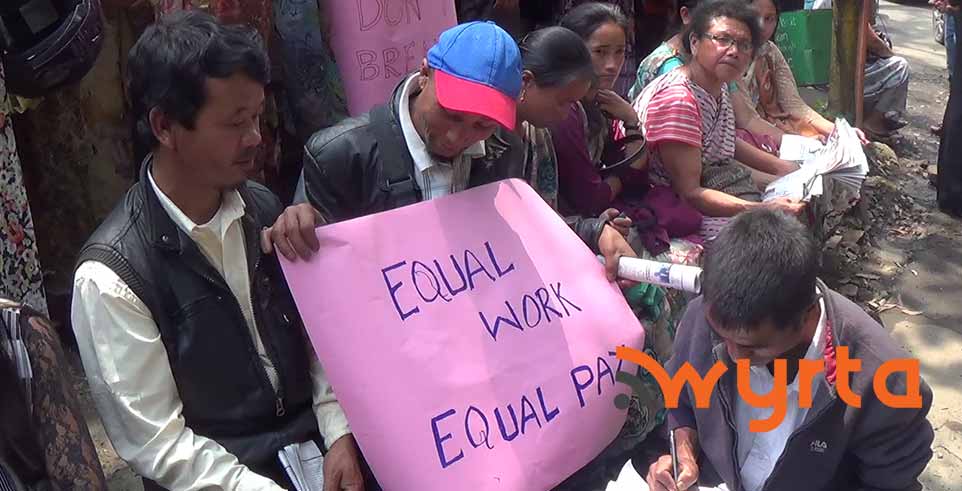 Shillong: Da ki spah ngut kiwa sikai ha ki Lower wa Upper Primary Adhoc School hapoh ka lama yong ka Joint Action Committee of All Teachers' Associations of Meghalaya (JACATAM), da pynman ki ya i chah thngan kawa chi sngi ha sarok hajan ka yung krehkaam ka All India Radio, Shillong.
U President ka JACATAM u E.D. Nongsiang hei klam yong oo wa kiwa thoh khubor ynne ka sngi da ong u, neidaw wa ki dawa yong kiwa sikai da sah teiñ ki da ki boon snem wei neidaw wym mano ka sorkar jylla yow pynkrehkaam yei dawa yong ki iwa kynthup wow pynku tulop 100% ya kiwa sikai, ka JACATAM ym yohsa de ko u pynman da i chah thngan wa chi sngi wei lada ka sorkar jylla ym ye ko u jubab hapoh chi tayaw da maham ko wa i yakhih daw pynjoor chooh ka ha ki tayaw wow wan.
U Nongsiang da ong u leh wa ha ka yachem wa u Chief Secretary chirup wa u Commissioner ka tnat puræ puthi ha u Naisaphra u snem 2016 da chim ya ka rai wow pynkrehkaam noh yei dawa kiwa sikai hapoh 6 bnai. Yeini leh da kular leh u Mukul Sangma wow pynku tulop hei klam yong oo hapoh ka yung dorbar wa dang dep pynman.
Kiwi de ki dawa ka JACATAM toh yow pynkrehkaam noh ya ka Service Rule, ka National Pension Scheme wei ya kini dang ye u yang, i dawa wa ha khmat duh toh wow pynku tulop.
Da pyntip leh wa hadooh katni dang em du 2500 ngut kiwa sikai wa da pynku tulop 100% wei kini toh kiwa sikai ha ki Secondary School wa ki Higher Secondary School wei neibynta kiwa sikai Lower Primary, Upper Primary wa ki Pre-Primary ym pu em pynku tulop kiwa em palat 5000 ngut kiwa kynthup leh ya kiwa sikai ya ka subject Hindi kiwa yoh du T. 3,500 chi bnai.