Chief Minister Youth for Green  Campaign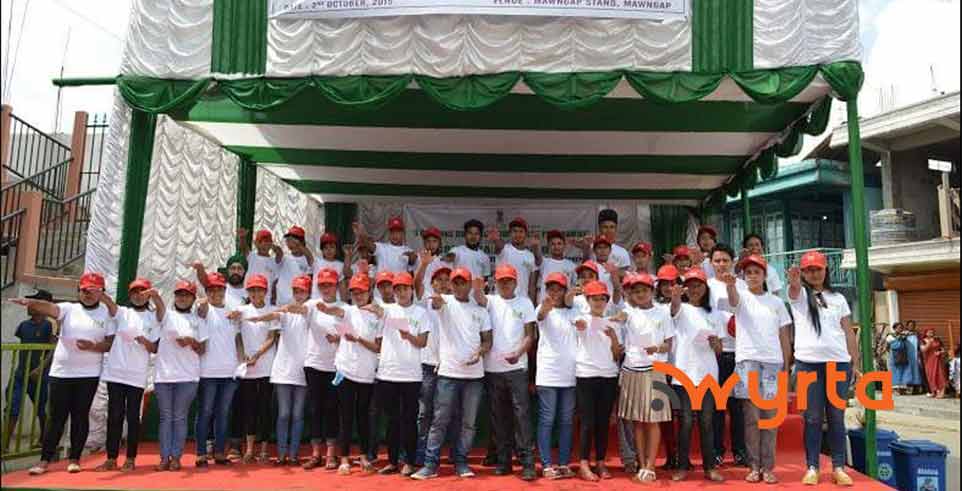 Shillong: A cleaning drive along with an awareness programme to observe the Green Campaign Day under the Chief Minister Green Campaign movement was held today at Mawngap Market area, East Khasi Hills District. The Programme was organized by the Mawphlang C&RD Block in collaboration with the office of 'U Lyngdoh ka Hima Mawphlang and NESFAS' and supported by Khrawsing Christian College and Seng  Samla Mawngap.
The Parliamentary Secretary to the Government of Meghalaya, Mr. K C Khyriem who is also the local MLA grace the occasion as the chief guest in the presence of  L Blah, local MDC, Dr. C Ryngad, Ex-Director Horticulture, D Marbaniang, Rangbah Shnong, Mawngap Mawsmai, P T Passah, Block Development Officer, Mawphlang C&RD, college and school students of the area.
Speaking on the occasion, Khyriem said that Mahatma Gandhi has given us freedom and honour and needs to remain eternally grateful to him, adding that the entire world knows him as the apostle of peace and non violence and therefore his action has a lesson for the entire nation and whenever Gandhi faced a crisis in life he took it up as a challenge and ultimately came out stronger because he took up the path of righteousness. He further said that the entire environment movement has a deep imprint of Gandhi's legacy and his defense of community rights.
Earlier, Mr Khyriem handed over the award for the cleanest shop in Mawngap market area to Ms. T Sun, Ms. F Challam and S Khyriem.
The highlights of the day included oath taking ceremony and short play presented by the Yong Lajong. (MIPR)