Chongkun ka sngi pynkut ya ka Youth Week ka Chnong Namdong-A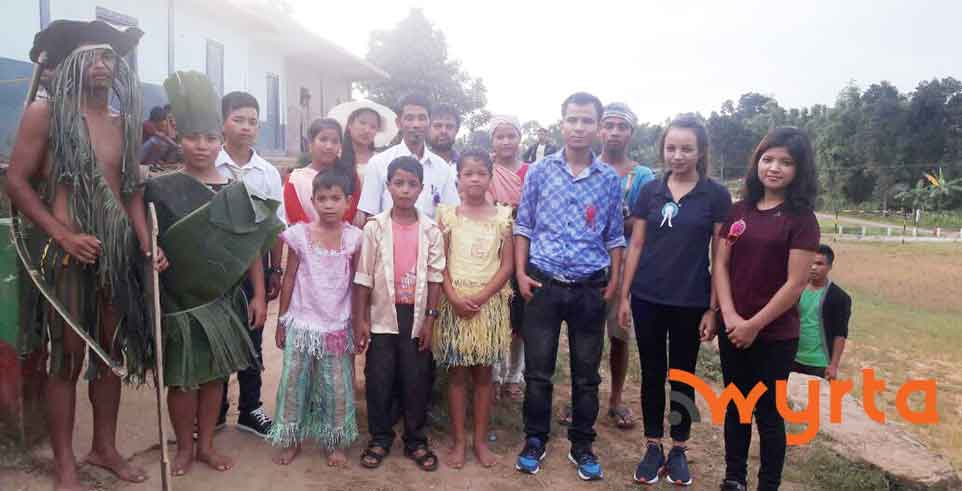 Jowai: Ka Youth Week yong ka Chnong Namdong-A da poi ko chawa kut ha kani ka Sngi Chohthat heiwa da wan khang ya ka da u Dennis Dkhar hei emlang u Jimmy R. Kharmuti Programme Coordinator FARM, Northeast wa u Waheh Chnong u Dawan Lyngdoh. Ya kani ka Youth Week da pynman da ka Children and Youth Group ryngkat i krehlang ka Chnong Namdong-A wa ka FARM, Northeast (Jaiñtia Hills Development Society).
Hapoh kini ki chibnai da em boonjait ki yakop kam ka Football, Debate, Extempore Speech, chaad i rwai, ka pynkhooid chnong wa kiwi kiwi heiwa ki khynnah wa ki khon khynroo khyllood da ki spah ngut da chim bynta ki. Ha kani ka sngi pynkut da em leh ka ka yakop bha chynrang miat kynthai (Mister and Miss Namdong-A) ha kawa ya i naam Mister Namdong-A dalai ko cha u Yoomiki Susngi katwa ka naam Miss Namdong-A dalai ko cha ka Resmi Maria Shylla.
U Dennis Dkhar da e u i yaroh ya ki khon khynroo khyllood ka chnong wada ye ki u pynman kam kini ki programme wei wa kyrmen skem u wa kani ka Youth Week u man ko man u snem, tangwa ki khynnah ymhoi u mylliñ ki yei puræ puthi.
U Jimmy R Kharmuti won hei klam yong oo da e u i yaroh wa khroo ya u Waheh Chnong ka Namdong-A wa ha ryngkat i krehlang ka Children and Youth Group da ye ki wow wailaad ya ki khon khynroo khylloo u pynyoo ki yei sap yong ki, hei klam yong o da ong u wa ka mynried yong ka imlang sahlang chong ko ha ki khynnah wa ki khynroo, neitæ i daw ban joor u ya waroh wow chimkhia ki wow pynemkaam hok ya kani ka rynsan wa da wailaad ya ki wow ku ki cha khmat lyngba i sap wa em ki.
U Dawan Lyngdoh da e u i yaroh wa khroo ya ki khon ka chnong waroh wada e ki ya ka kti timun tidiang neibynta wow saiñdur ya ka rukom im ki khon khynroo khyllood yong ka chnong, katwa neiliang ki Children and Youth Group da e ki ka yaroh ya u Waheh Chnong halor ki kylla wa rah u hapoh ka chnong.
Chwa wow kut kani ka Youth Week da lehburom leh ya u Jimmy R Kharmuti da ka Children and Youth Group neibynta i kaam wada leh u wow pynku ya ka sap ka yong ka jaitbru wei da e ki i kitbok kitrwiang neibynta wow ku bha ka Film INAMORATO.
Ka yalang da pynkut ya ka hadien wada dep saam ya ki Certificate wa ki khusnaam cha waroh ki wa jop ha ki yakop waphær waphær.