Da booh moo yurim ya ka Water Supply Project ha Lawsohtun kawa T. 3.3 klur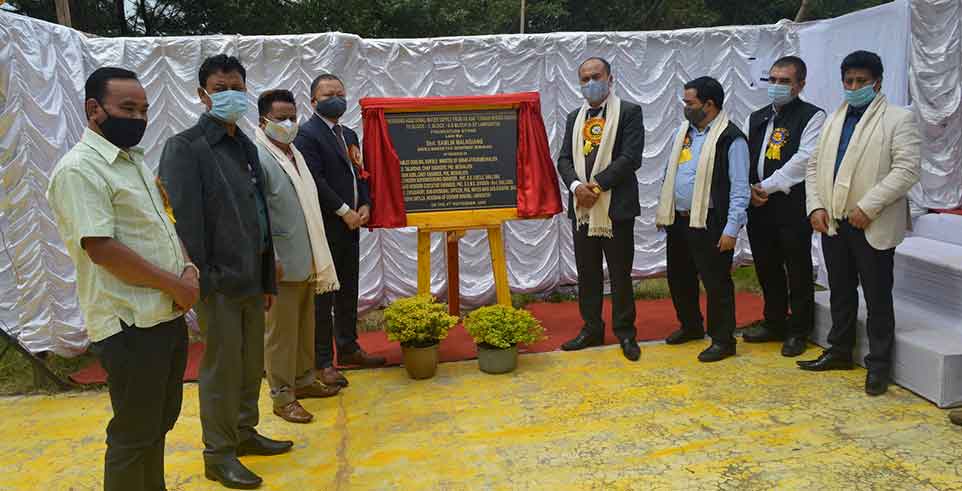 Shillong: U montri ka PHE Department, u Samlin Malngiang ynne da booh mooyurim u ya ka Scheme saam um namo ka Water Supply Project ha Lawsohtun ya kawa da tip leh kam ka 'Provision of additional water supply from Riat Tynrah spring source to Block I, Block II and Block III of Lawsohtun' ha ka yalang wa pynman ha Basketball Ground, Lawsohtun, Block VI.
Ha kani ka sngi da emlang leh u montri ka Urban Affairs uwa man leh u MLA ka thaaiñ, u Hamletson Dohling, u MDC, Mitchel Wankhar, Chief Engineer, PHE Department, K D Talukdar, Additional Chief Engineer, PHE Department, D. War, Headman, Lawsohtun, Lurshai Shylla, wa kiwi kiwi.
Kani ka Project, toh kawa da mang poisa na ka Rural Development Infrastructure Fund (RIDF)-XXV hei lut iwa T. 3,30,00,000 (Le Klur Lephaw Lak), hajrong ka thong wow pyndap yei duna um ki paidbah ha ka  Block I, II wa III ka Lawsohtun.
Hawa e i klam ha kani ka sngi, u Samlin Malngiang da pyntip u wa daw khut ya ka Tender neibynta kani ka Project wei yooluti u wow sdang ko ha u Naichiphaw deiwa yaroh ya i yatylli wa i krehlang ki Dorbar Chnong, PHE wa u MLA dei kyrmen wa ini daw yarap i ya ki paidbah ka thaaiñ.
Neiliang won u Hamletson Dohling da kyntu u yei yakrehlang waroh kiwa embynta ha kani ka kaam khnang wow pyndep ya ka hapoh i por neibynta i myntoi ki paidbah ka thaaiñ.